The Wedding Shop becomes first UK gift provider to launch an App
The Wedding Shop has become the UK's first and only gift registry to launch an App making the planning process even easier for their couples. Available on iOS devices, the easy to use App gives brides and grooms who are registered with The Wedding Shop the chance to manage and build their list whilst on the move and away from their computer screens. Plus, a handy new integrated barcode scanner will allow them to add gifts to their list when out and about!
This perfect and stress-free way to manage any 'wed-min' gives couples the option to register a new list, see their balance, view inspirational lists, create their own website link, order notification cards and personalise their cash fund. And if you can't wait to find out what has been purchased before the big day, there is a handy option to receive alerts when a guest purchases a gift.
And, most excitingly, an exclusive for The Wedding Shop App users only is the new barcode scanner function that makes it possible to add gifts to your list whilst on the move just by simply scanning a barcode. This means any product from any UK high street can be added automatically on to your gift list quickly and effortlessly.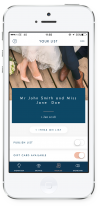 With a product portfolio of more than 350 leading luxury and boutique brands, The Wedding Shop's highly personalised and bespoke service provides fee-free monetary, charity, experience and honeymoon contribution options. With showrooms in Chelsea, Selfridges Oxford Street, Dublin and Edinburgh, as well as online at www.weddingshop.com, The Wedding Shop offers expert advice, flexibility and unlimited choice to help build a list that is entirely personal to every couple.
The App is free to download and available now, take a look over to the website for more details nad download.