Last month I brought you 'Weddings Costs to Watch Out For', so this month I wanted to bring you some unnecessary costs that can be avoided.  
Wedding anxiety is a real thing, and you can easily get carried away with what you think you need, what your parents tell you they think you need, what Pinterest tells you it thinks you need, not to mention mounting competition from siblings, family, friends and even bridesmaids!  
I asked one of my recent brides the best piece of advice she received while wedding planning.  She described one night freaking out on the phone to her sister about all the little things she still had to do and buy, and her sister simply said, 'Remember, it's just one day'.   
Obviously you want your day to be the best, better than everyone else's, I get it, but bankruptcy is not the best start to a marriage!  The most important thing on the day will be marrying the love of your life, so as long as that part goes to plan then your day will be a success no matter what.  
http://www.cottoncandyweddings.co.uk
Confetti. Credit www.cottoncandyweddings.co.uk
Don't get carried away with… 
Extravagant 'Will You Be My Bridesmaid' Proposals 
There are loads of cute kits and gift hampers doing the rounds on Instagram at the moment, but remember you'll be forking out for your bridesmaid's outfits, perhaps accommodation, and then a thank you gift/gesture afterwards too.  So while these little touches and hampers are a lovely luxury, this feels totally unnecessary to me.  
Personalised Confetti 
Your wedding is already all about you so don't waste money on something you are literally going to throw away.  Dried rose petals are so much more elegant and can be easily DIY'd at home.  
Wedding Day Champagne Flutes 
If you truly believe you will actually use these again, go ahead, otherwise save the cash for a bottle of bubbles on your honeymoon – which will be much more enjoyable, I can assure you!  
http://www.amandakarenphotography.co.uk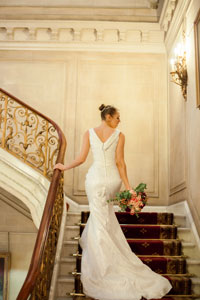 Wedding Dress.
Credit www.amandakarenphotography.co.uk
A Change of Wedding Dress 
Your wedding dress is one of the most important aspects of your day, and most likely one of the most expensive single items.  Why waste the chance to show it off?  A change of dress is a luxury, but time is of the essence as well as money while wedding planning, so don't give yourself any extra work.  I'm sure you'd also much rather be partying on your wedding day than wasting 30-40 minutes doing a change of dress.  
I hope these pointers will help you save some time and money on your big day.  Don't compare yourself to others, and do what suits your own needs and your own budget and that will be a great basis for your wedding planning.  
Good luck with the rest of your planning, and if you need any help or any more ideas please don't hesitate to drop me a line.  You can find me over at www.devinebride.co.uk and on laura@devinebride.co.uk. 
All stationery photos featured is work by Laura Devine of Devine Bride. 
By Laura Devine of Devine Bride
About the author, Laura Devine of Devine Bride:  
Laura is a wedding tasker and runs the multi award-winning wedding blog Devine Bride.  Laura offers pick and mix wedding planning, from stationery to styling, hire a bridesmaid to help on the day, and from wedding planning to wedding websites.  Her honest and practical blog covers hen parties to honeymoons and everything in between.  
Laura won Best Rising Star at the Wedding Blog Awards 2016, Wedding of the Year 2016 with Your London Wedding Magazine, and was highly commended in the Wedding and Events category at the UK Blog Awards 2017.  
Laura is Glasgow born and bred but now splits her time between Scotland and London, where she lives, works and plays.  She is a graduate of the Glasgow School of Art and the London College of Fashion.
In her words, "Weddings are important because they celebrate life and possibility, and ultimately, it's all about making people happy – and I love that."