Chloe Bond Weddings, the UK's first wedding planner exclusively for lesbian women, launches in London on 18 September. Chloe, the owner and founder, is thrilled and excited to be launching this service for women within the LGBTQ+ community.   
While there are many wedding planners that focus on LGBTQ+ marriages, there are none purely for women. "As a lesbian woman myself, I truly understand the questions that my brides will have before they ask them" Chloe explains. "It is important to me that my couples are not asked the stereotypical questions that women so often receive such as who is taking the traditional female role at the ceremony, even after the 13 years since same sex relationships were recognised by law in the UK. Every couple is different and will want their day to reflect their style, values and vision as a couple; it is my role to make sure that happens without couples feeling uncomfortable by awkward and outdated questions." 
Chloe Bond Weddings specialises in creative, urban weddings with bespoke, luxe design. Having experienced over fifteen years in event and programme management, Chloe will use her planning skills to provide a day for her brides that is supported by like-minded suppliers who are unequivocal in their belief that all couples are equal and their love should be celebrated on the wedding day.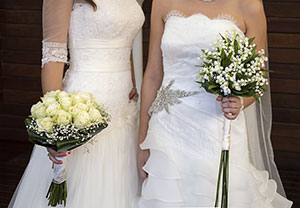 "2018 is a monumental year for women; it's the centenary of women's right to vote in the UK and we have seen strides forward in equality, evolution of the feminist movement and women gaining strength in the workplace and in law in that time.  Women who identify as LGBTQ+ need no longer feel obliged to fulfil the stereotypes of heteronormative relationships or pigeonholed into staid traditions.  This is our time – love really is love!"  Chloe added "I couldn't be more full of joyous anticipation if I tried". 
Contact Chloe to discuss your wedding plans at chloe@chloebondweddings.com or visit the website at www.chloebondweddings.com and all the social channels @chloebondweddings