After a long hot summer in the capital, the big freeze is finally upon us. While some may complain about the start of the cold season, we see it as a fantastic reason to celebrate the season and create a wedding winter wonderland! 
Winter weddings should channel all the best parts of the season; from log fires and crisp white snow, to cosy colours and comfort food. To help couples make the most of the winter months, we've put together a list of a few things to consider including in your big day celebrations.
Colours that compliment and contrast
When it comes to winter, silvers and golds work really well and can add a subtle touch of elegance. Compliment this with a few dashes of greenery to really bring the sparkle to life.
We also love adding a pop of colour with deep reds and vibrant oranges which add a warming feel and contrast beautifully against a white backdrop.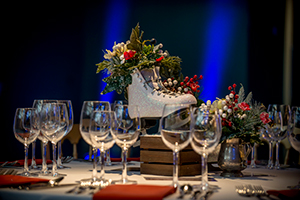 Food that warms the soul
When the weather turns cold, there's nothing better than a little comfort food to warm the cockles. Ditch the traditional canapé reception and welcome guests with mini grilled cheese and small pots of hot, rich tomato soup. For the drinks, why not try a build your own hot chocolate station? Everyone coming in from the cold will certainly appreciate it (especially the kids) and you can even add a shot of liquor for the adults, just don't get the two mixed up! End the night with a trendy 'to-go' poutine bar to satisfy any late night cravings, while also soaking up any alcohol and soothing sore heads.
Florals 
Winter florals can be surprisingly varied. It's always a good idea to include a splash of greenery and then pepper it with colours from within your colour scheme. We love the idea of taking inspiration from the festive season by decorating pine needle wreaths to match your style. Deep purple, offset with hot pink works a treat, while an assortment of pastels will give a softer, more subtle feel.
And remember, you don't have to limit yourself to flowers. We've seen some stunning displays of oranges, sprayed pine cones and even seasonal berries.
When it comes to winter, it's all about bringing in a feeling of warmth while celebrating the season's natural beauty. If you're interested in hosting your own winter wonderland wedding, get in touch with the Museum of London wedding team here.
Article by : Roslin Kerr, Event Coordinator at Museum of London
Event Date:
Wednesday, November 28, 2018 - 13:45