If your summer wedding is approaching it's likely you've selected your dress, décor, venue and menu.  You've probably deliberated for hours about the flowers and pondered over the travel and transport plans. But have you thought about which drinks you'll serve to guests as they celebrate your 'I dos'? Summer wedding cocktails could provide the anwser.
"With so many other decisions to make, drinks are not often a high priority," says Sarah Miller, wedding coordinator at The Barton Grange Hotel near Preston. "Many couples simply opt for champagne or Prosecco, with wine and beer for the tables. It's a classic drinks menu that'll appeal to many, but for those looking for a little something extra, cocktails can take your refreshments to another level.
"When made with fresh, seasonal ingredients, cocktails are simply delicious and they can complement your menu just like wine," continues Sarah. "And if served with theatre and a little imagination, the drinks can become a real talking point from the day.  "Edible flowers, fragrant herbs, dry ice, and unusual serving vessels (think teapots, flower pots and even watering cans) are just some of the ways to 'dress up' your drinks.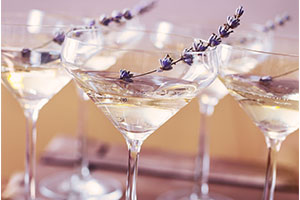 Make your own wedding cocktails
"Many cocktails can be pre-made, allowing guests to help themselves from a self-serve cocktail station, brilliant for large weddings and to avoid queues at the bar.  This could take the form of vintage cocktail trolleys, or an old-fashioned lemonade stand if the weather is fine. For added entertainment, why not incorporate a trained mixologist to delight guests as they flip, catch and shake their way to the perfect cocktail.  They could also create a 'signature drink' especially for your big day.
"As for current cocktail trends, gin and whisky are still massively popular, and sherry is fast becoming a drink of choice. Mocktails are also key for those nominated drivers, and for children, but also to cater for the huge trend towards non-alcoholic drinks (around a fifth of the UK population is teetotal) so, be sure to include them in your plans.  One idea is a Blackberry Mint Spritzer, which uses seasonal fruits and draws on a classic mojito recipe, dressed with fresh mint."
Remember to discuss the choices with the wedding team at your venue, who will be able to advise what cocktails are best served to a lot of people.  And to ensure things run smoothly it's better to decide on a few signature drinks ahead of the day.  Here are a few ideas:
Champagne with a twist
Adding flavour to champagne is a great way to 'mix up' the drinks menu.  Fruit infusions always go down well in summer – peach, mango, strawberry and raspberry are classic choices – or lychee and elderflower will satisfy those with more exotic tastes.  For an extra kick, lemon, sugar syrup and gin are a delicious combination, known collectively as the French 75.  And for some vintage glamour, look no further than the classic Champagne Cocktail, mixing champagne, cognac bitters and sugar. Go the extra mile with silver or gold flakes for decoration! 
Gin and juice
It's hard to ignore the gin revolution taking place in the UK, so why try? A classic G&T is a real crowd pleaser, especially given the array of gins readily available at most venues. A long drink will please thirsty guests and could come in the form of a Singapore Sling - an explosion of taste incorporating pineapple juice, cherry liqueur, Cointreau and fresh lime.  Alternatively, the classic 1920's Gimlet is simple and sophisticated, it offers the perfect combination of gin with sugar syrup and lime juice.  
Whisky for warmer days
Due to its 'warming' properties, you might not think of whiskey for a summer wedding, but lighter notes and summery flavours can transform it into thirst-quenching tipple. Peach and cucumber, rhubarb, and ginger and apple, are all cooling counterparts for whiskey. Alternatively put a summer twist on the classic Whiskey Sour with notes of rose and hibiscus.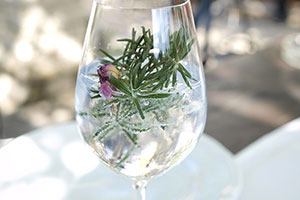 My sherry amour
No longer confined to a dusty corner of Granny's sideboard, sherry is making a huge comeback.  It's hard to find a better drink to quench the thirst than the Menta Fina, which combines sherry with dark rum, ginger ale, lime, ginger and mint leaves – just lovely on a summer day.
Barton Grange Hotel is a lovingly restored manor house situated fifteen minutes North of Preston.  The family run four-star hotel has 51 rooms and caters for weddings of all sizes. 
For more information visit www.bartongrangehotel.com