Rom-coms are the perfect escapism from our everyday lives, where true love conquers all and Prince Charming always makes an entrance right on cue. But what would our favourite rom-com couples look like if they were to meet today, in the generation of social media? 
Would Mr Darcy have swiped right for Elizabeth Bennett in 2018? Would rom-com favourites Bridget Jones and Mark Darcy have made it as a couple if What's App messaging confusion was added into the mix? Or would Rhett Butler and Scarlett O'Hara have any chance of happiness in a world of Snapchat stories?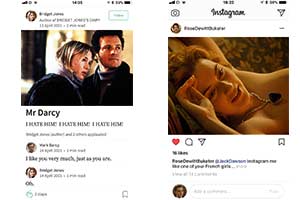 In today's confusing dating landscape, it's no surprise that more and more people are meeting using online dating platforms as a way of meeting new partners, but once they're over the initial hurdle of meeting, technology can still play a pivotal role. 
In light of this, Satsuma Loans has imagined what our greatest on-screen rom-coms would look like, should they happen in 2018. In a series of light-hearted images, we can see Titanic's Rose asking Jack Dawson to 'Instagram me like one of your French girls', and Juliet searching for Romeo through his Find My iPhone app. 
As well as the rom-com images, Satsuma also carried out some research looking into dating and engagements in the modern era. The study, of 2,000 Brits aged between 18 and 35, was commissioned to find out how the dating scene has changed in recent years. 
According to the research, 57% of British adults under 35 would consider breaking up with their partner if they 'liked' a scantily clad Instagram photo of a member of the opposite sex. It's no surprise then, that one in six have a second Instagram account that they keep a secret from their partner. 
Would you trust a partner if they didn't use social media?
The research also found that while liking photos is a big no-no, it's also off-putting if you don't post often enough, with 27% admitting they would find it hard to trust someone with a limited social media presence. 
The top five things most likely to cause an argument in a millennial relationship are:
-        Being caught messaging someone on social media (74%)
-        Finding naked / semi clothed photos on their partner's phone (69%)
-        Checking an ex's social media accounts (61%)
-        Liking sexy Instagram photos (57%)
-        Sending drunk text messages (45%)