With the average cost of a wedding stacking up to £27,000 this year, there has never been a better time to make use of second-hand shopping on everything from the decorations to the dress. When we're trying to save money on the big day, many of us will forego optional extras, skimp on the decorations and ditch the designer dress but sticking to a wedding budget doesn't mean you have to give up on your dream wedding.
So before you decide against chair covers or downgrade the table decorations, try shopping around an online marketplace to see whether the wedding you envisioned is available at a second-hand price.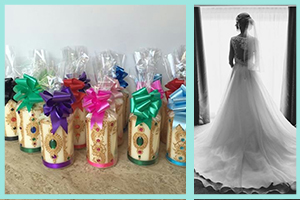 With second-hand digital marketplaces growing in popularity among savvy shoppers, a number of newlyweds are now selling their wedding goods online at a discounted price. That means everything from groomsmen suits to lawn games are available to buy for a lower than average cost.
Rich Woolley of digital marketplace Paperclip said: "When you're planning a wedding, it's easy for things to get out of hand and costs can really spiral. Venue hire alone can mean putting down a hefty deposit, and so finding ways to save money on the extras can prevent you from racking up a huge bill before the big day.
Shopping second-hand for your wedding has never been easier
"The great thing about second-hand shopping for your wedding is that anything you buy will only ever have been used for the one afternoon, and so most items are still in mint condition. The majority of people who second-hand shop will have some reservations about quality, but as we know, most wedding dresses and suits will sit in the wardrobe having barely been worn and so they are often as good as new."
Shopping second-hand for your wedding has never been easier now that marketplaces have moved on from the car boot sale and become digital. Not only can bride and grooms-to be search for the things they need from the comfort of their own home, but there are also wedding-specific groups for buying and swapping where couples can trade privately and browse all of the options without having to wade through thousands of items.
Rich added, "One of the best things about using a marketplace is that you can save lots of money on your wedding by buying online, and then go on to sell your own items after the big day is over. And with everything you've saved, there's plenty left in the wedding budget for the honeymoon!"