18 years is believed to be the sweet spot for true wedded bliss and 267,961 couples could be celebrating that anniversary this year
A new study commissioned by Beaverbrooks the Jewellers shows that 41% of people across the nation still firmly believe in the concept of marriage.
As part of the survey, 1,000 respondents were asked to pinpoint the year in which they felt people are the happiest in a marriage, with the majority suggesting that 18 years is the sweet spot for true wedded bliss.
Some 267,961 couples got married in England and Wales in 2001, which means a lot of people will be marking their 18th (porcelain) anniversary this year*.
Research carried out by the family jewellers - which is celebrating its 100-year anniversary this year - also indicated a growing trend for autumn weddings over the past two decades.
The months of September, October and November hosted 1,362,502 weddings over the last 20 years, that's 12% more than spring months, March, April and May*.
September is the third most popular month to get married, with statistics showing that 677,342 couples have tied the knot during this month, and the sixth of September is considered the second most popular date to get married. Beaverbrooks' experts believe this is due to couples avoiding the high costs around Bank Holiday weekend, but still wanting the warmer temperatures and lighter evenings that August and early September offer. 
Up until the late 1960s, it was more commonplace for couples to get married in March due to a quirk in the nation's tax laws. However, this loophole was officially closed in 1968, which led to more people tying the knot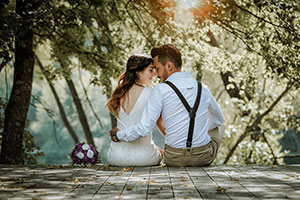 in August and September.
Other notable snippets showed that August 30th is the date when a large number of Brits are likely to celebrate an anniversary, with statistics showing that 33,782 couples have said their vows on this date in the past 20 years *. The most popular months to get married have been August (848,851), July (695,494 marriages) and September (677,342 marriages)*.
Also, a significant number (29,513) of romantic souls have said "I do" on Valentine's Day, making it the tenth most popular date to get married* and the only winter date to make the top ten.
Lorna Haddon, Head of Diamonds & Jewellery at Beaverbrooks, said: "We adore helping loved ones celebrate their magical moments and for 100 years, we've been honoured to be a part of thousands of unique love stories. 
"Anniversaries are such a symbolic and meaningful occasion, which is why, to commemorate our 100th anniversary, we wanted to see how many couples are also celebrating something special this year.
"Whether it's a couple's first year of marriage or 50 years of wedded bliss, an anniversary puts a pin on the calendar to remind us of that very special day. We hope our tips and ideas inspire couples to celebrate their own milestones with that special someone in a truly memorable way."
You can see the full research - including details of different anniversary milestones alongside a number of tips and case studies - right here.