With hair appointments hard to come by, and bouffants in desperate need of some TLC, you may noticed that your hair is looking dull, dry, unruly and has split ends. This round-up of treatments and hair hacks will revamp your haircare routine in time for the big day, to reveal glossy, shiny and healthier-looking tresses.
SPLIT ENDS | THE HACK – DETANGLE AND TREAT
As we can't get our regular trims right now, making sure your hair is in top condition will help prevent further split ends, pre-salon appointment. Use a wide-tooth comb instead of pulling at fragile hair to detangle. When hair is extra-fragile, ease knots out slowly and make sure you don't rip or pull. If you hit lots of snags, a trick is to work from the bottom of your hair and work your way up. Don't forget to deeply treat hair with a mask, hydrated and moisturised locks is less prone to breakage.
TRY: Only Curls Pink Shimmer Comb, £8, onlycurls.com
Rounded, wide teeth gently massage the scalp and glide easily through unruly hair.
Shea Moisture Manuka Honey & Yoghurt Hydrate & Repair Protein Power Treatment Mask, £10.99, lookfantastic.com
This masque treatment powered by reparative proteins and butters, in a nutrient-rich strengthening cream to naturally reinforce and revitalize over-processed, dry and damaged while reducing breakage up to 76%
WILD, UNRULY CURLS | THE HACK – CURL-DEFINING GEL AND SOCKS
For many of us lockdown locks means lioness manes – for your new-found curly hair. A curl defining gel will turn frizzy hair into shiny and bouncy curls. For added bounce, why not try the Tik-Tok sock curling method? A heatless way to define curls. Take long winter socks, working on damp hair use a clip to secure the sock and then plait a 1-2 inch width of hair around the sock, secure with a scrunchie.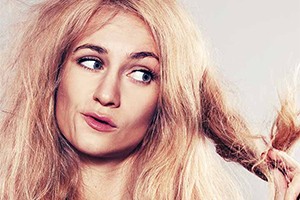 TRY: Only Curls Enhancing Curl Gel, £16, onlycurls.com
Define your curls with this oil infused gel that holds curls in shape while adding shine and moisture. The special blend of Avocado Oil, Kukui Oil and Aloe, naturally hydrates curls, minimises frizz and maximises curl impact.
Only Curls Silk Scrunchies, £10, onlycurls.com
These 100% silk elasticated scrunchies will help reduce tangles, breakage and frizz. They look cute too!
LACKLUSTRE LOCKS | THE HACK – INSTANT SHINE
If locks are looking limp and lifeless, dare to take a cold shower or if you not feeling so brave, use your cool shot on your hairdryer and complete your style with a shine spray, A lightweight hair spray not only control frizz, flyaways and static for a salon-style finish, shine boosting products, hides the look of split ends so no-one will be wiser, dull colour is boosted and your locks will have healthy-looking radiance from root to tip, instantly.
TRY: 
Windle & Moodie Essential Oils Elixir Pre shampoo treatment Shine 50ml, £23.20, Indulge Beauty @ thefragranceshop.co.uk
Use this clever pre-cleanse elixir which has a blend of apricot, coconut, camellia and oat natural oils for nourishing and glossing hair. 
Ghd Final Shine Spray 100ml, £9.95, Indulge Beauty @ thefragranceshop.co.uk The ultimate quick shine booster, spray after styling for instant shine whilst calming static and frizz.
LIMP AND LIFELESS | THE HACK – INSTANT VOLUME BOOSTERS
Tresses looking flat or in need a voluminous boost should swap their shampoo for a weightless volumising one. For an instant boost, use a thickening spray at the roots and blowdry. For an added oomph, gently backcomb hair at the crown.
TRY: Bumble And Bumble Thickening Spray, £19.55, Indulge Beauty @ thefragranceshop.co.uk
Use this when blow-drying! Infused with innovative Emblica technology which plumps and thickens the appearance of each strand without weighing it down.
Shea Moisture Weightless Fruit Fusion Shampoo, £10.99, lookfantastic.com
This lightweight shampoo has been formulated so it doesn't weigh hair down. The formula refreshes and rejuvenates hair with its blend of dragon fruit, lychee berry and green apple extract which energise, limp locks.
Event Date:
Thursday, August 13, 2020 - 09:45