Another year has already begun and everyone in the bridal industry is excited for what the 2020 wedding season has to come.  Weddings are becoming much less traditional with more couples choosing their own personal wedding journey. 2020 wedding trends will include; 3-day events, second wedding dresses, eco-friendly wedding, having pets as members of the bridal party and an increase in American trends like rehearsal dinners. There are so many exciting changes happening in wedding trends this year.
Alison Jaffa from the luxury bridal subscription box, Blushing Bride Box is sharing her wedding trend predictions to our Vows and Venues readers. Launched back in 2017, Alison created an opportunity to share her love for luxury, beautiful and elemental wedding ideas. Each month she personally handpicks crucial and inspiring products to share with brides-to-be as they make their journey from 'Miss' to 'Mrs'. Always on the hunt for the next exciting wedding trends, she makes it her mission to ensure that each Blushing Bride Box provides brides-to-be with essential items and encourages the creativity and imagination they need for their dream wedding day.
2020 Wedding Trend Predictions
Dresses
The dress is always one of the most exciting parts of planning a wedding. Last year, we saw a huge shift in styles and colours of the dresses coming down the aisle. 2020 will be similar, with lots of clean lines, elegant boat necks and all types of sleeves trending in Bridal stores.  The simplest of fabrics will feature with soft hues of colour, providing the same elegance the Duchess of Sussex had. 2020 is going to be an exciting year for bridal gowns.
Bridesmaids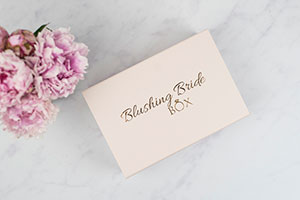 Having their bridesmaids look just as amazing (almost) as they do on their big day will be hugely important to Brides in 2020. Mix-and-match dresses will be just as popular as they were in 2019 as it enables brides to choose a dress colour and style that is a perfect fit for each individual bridesmaid. 2020 styles are going to be sleeker and feature fresher colours to give brides a huge range of options. Simple, elegant fabrics such as satins and silk will filter through into the trends for bridesmaid dresses. Designs will include cowl and halter necklines, floor and mid-length hemlines and more structured silhouettes. Pantone's Colour of the Year 2020 is Classic Blue, making blues lead the way in colour trends for bridesmaid dresses.
Hair and Makeup
Bridal hair trends are always changing and the bride's choice in hairstyle has a lot of factors including the design of her dress and hair accessories too. When it comes to wearing a veil, brides need to take into consideration if they will be wearing one and if so, just for the ceremony or for the entire day. 2020 is all about the natural look when it comes to hair and makeup. Less is more with barely-there makeup becoming increasingly popular, accentuating the bride's best features and gentle, untouched hairstyles to draw attention to hair accessories. Accessories are tipped to be bigger and bolder than ever in 2020, with the headband trend making a comeback, 3D florals bringing creativity, hair vines for the whimsical bride and delicate tiaras and hair pins bringing a majestic feel to the bridal look.
Décor
Sustainability is hugely important for weddings; couples are steering towards being more imaginative with their décor, upping the sophistication and creating their look and approach to something that represents 'them', as sustainably as possible.  One of a kind lighting is the perfect way for couples to show their individuality, using neon signs, fairy lights, hanging pendants and chandeliers.  The great thing about using lighting as a décor focus is that they can all be hired, which means that other than the electricity or candles used, there is little wastage and a minimal effect on the environment.
Flowers
Staying sustainable is also influencing more and more couples to opt for eco-friendly weddings as they are conscious of the environment. Flowers can create a large amount of waste and cause environmental damage when they are often shipped hundreds of airmiles to keep with the demand for particular types or colours. 2020 will concentrate on staying local with flower suppliers and couples growing their own flowers for their big day. The green trend will continue, which will encourage the use of lots of foliage and greenery for its versatility, and low-costs if it is sourced locally.
Food

Eating the food that you love and enjoy should be no different on your wedding day. 2020 isn't going to be about extravagant, high-end dishes that your guests will struggle to enjoy, we are going to see a move towards a more laid back dining experience, with sharing platters, grazing tables and childhood favourites. Many wedding caterers and venues will begin to source produce more locally for their menus. An elegant and classy take on street food is going to be something we see a lot more of this year when it comes to wedding food trends.
Honeymoons
2020 is going to bring more exciting travel experiences for newlyweds to have the time-of-their-lives on their honeymoon. This will see the trend of minimoons continue to thrive for those couples craving that once-in-a-lifetime holiday; newlyweds will opt for a few days to unwind after the thrill of the big day with a chance to come to reality before their greatest adventure begins.  Environmentally friendly breaks can be costly, but many couples will choose eco-friendly hotels and stay sustainable when it comes to choosing activities to minimise their impact on the environment without compromising their own experience. These exciting honeymoons will have couples try lots of new and unique activities, making memories that will last a lifetime. 
If you want to stay ahead of the latest trends, wedding suppliers, advice and exclusive discounts, Blushing Bride Box delivers a variety of new and exciting products to your door each month in an adorable keep-sake box.  Shop your Blushing Bride Box subscription at www.blushingbridebox.com. 
Instagram: @blushingbridebox
Facebook: facebook.com/Blushingbridebox