Tapenade, celebration specialist caterer, is offering an extraordinary gift to couples planning to marry next year. All wedding reception bookings made before 31 December 2018 will include a complimentary evening menu for all guests. 
The offer translates to an average saving of approximately £500 based on 50 guests, allowing the happy couple to put the extra budget towards their special day. 
Engaged couples are always offered a complimentary sampling session of Tapenade's award-winning wedding breakfast menu before committing to a booking. During the consultation, they will also be invited to trial their complimentary evening menu, a culmination of easy-to-eat favourites that offers a choice of four different cuisines.
The menu includes sliders with hoisin duck, Angus beef, Cajun chicken or halloumi and red pepper. Or, for a quirky twist on tradition, newspaper cones of fish goujons and chunky chips. To follow, guests will enjoy a selection of British cheeses served with fresh fruit.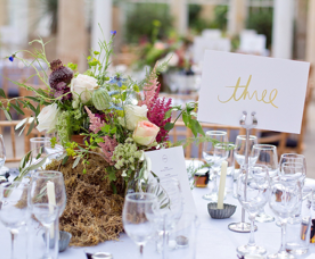 "We are offering this extraordinary gift to our soon-to-be-wed couples in celebration of a phenomenal run of industry awards and venue wins, such as the recently announced extension of our Syon Park contract" explained senior event manager, Nastassja Keenes. 
Tapenade, winner of Best Event Caterer at the Foodservice Catey Awards and National Venue Awards, is well-known for providing upscale catering at a portfolio of stunning venues in London and the South East. Additionally, it also offers the flexibility of on-site catering at private venues, bespoke marquees and outdoor spaces. 
Designed to minimise the element of stress and maximise the early excitement that is wholly possible while planning a wedding, couples can rest assured that with this offer, they will receive exquisite cuisine for a wonderful evening wedding reception. 
This offer is based on a minimum of 30 wedding guests and is applicable to weddings taking place before the end of 2019. Bookings must be made by 31 December 2018 to be eligible.
For further information about the offer and Tapenade's wedding capabilities, please contact sales@tapenade.co.uk.
Tapenade, part of Eventist Group  
Eventist Group is a privately-owned dynamic hospitality company made up of five businesses which each play a role in making long-lasting live experiences for individuals or brands. From the core disciplines of catering, AV & lighting design to mixology, Eventist Group has well established relationships with the UK's key venues and suppliers. The group includes Best Parties Ever, leading Christmas party provider, Tapenade, bespoke private and corporate caterer, Tobacco Dock Food, in-house caterer at Tobacco Dock, bar specialist Arribar! and sound and AV experts iELive. 
The group champions an innovative and refreshing take on event catering, live events and Christmas parties using the judgement of its senior team and the fresh ideas of its team of eventists who plan, style and bring logistics to life.  
Eventist Group consists of:   
Best Parties Ever  
The eponymous Best Parties Ever creates exceptional festive experiences for 176,000 guests in 23 locations around the UK.   
Tapenade  
Upscale private and corporate entertaining; from moveable feasts to more formal affairs using a fusion of flavours and delivered with charisma.   
Tobacco Dock Food   
A joint partnership with the award-winning Tobacco Dock; providing in-house catering.   
Arribar!   
High-energy bars and beverage delivery from bespoke black-tie occasions to greenfield headline festivals.   
iELive  
Straight talking technicals design, develop and deliver unrivalled production behind conferences, meetings and live shows.   
Food by Dish 
Taking inspiration from a vast larder of culture and culinary trends, award winning contemporary caterer Food by Dish combines innovative food design with the highest level of service.