It's World Vegan Month and you've made the decision to go vegan at your wedding – the next big decision is to choose the dishes you want on the menu. Because there are now so many vegan dishes to choose from, here is a list of five handy hints that wedding organisers at DoubleTree by Hilton in Sheffield always consider with their guests before they choose which vegan dishes they want to go for.  Hopefully, these hints and tips will help make the decision-making process a whole lot easier.
1 – The age profile of your guests - If there's a combination of different ages then we always advise to opt for more 'mainstream' vegan dishes that all guests will enjoy including children and older guests. It's best to keep it simple yet sophisticated and incorporate tastes and textures that all age groups will enjoy.  This needs to be applied across the whole of the menu – from canapes to the wedding breakfast dessert. 
2 – The time of the year are you getting married - The beauty of having a vegan wedding is that you can make full use of seasonal fruit and vegetables that are available and incorporate them into the wedding menu.  Whether it's a delicious tangy summer fruits pudding or a beautiful rustic warning autumn vegetable casserole you can really go to town with the seasonality of the menu.  No doubt that guests will delight in the choices and enjoy the seasonality of the dishes.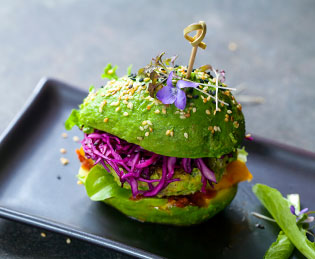 3 – Formal or informal? If it's a more formal affair then there's lots of sophisticated vegan dishes that be served as the starter, main course and dessert.  You can always give guests two options and ask them to choose beforehand.  If you want a relaxed informal style, then vegan street food is the answer.  You can include international dishes especially with an Indian theme that are sure fire winners every time.
4 – What's your budget? This will always have an impact on the dishes that you choose.  This can impact on the ingredients and the number of courses.
5 – Your favorite vegan dishes!! We always advise the wedding couple to include at least one of their favorite vegan dishes.  And why not?  It's your wedding so why not include your favorite food.
Follow DoubleTree by Hilton Sheffield, experts in organising the perfect vegan wedding, at: