Say it with Flowers - Wedding blooms are one of the essential decorations to help make a really beautiful wedding.
Michelle Marwood, Events and New Business, Co-ordinator at award-winning wedding venue Hylands House, Essex, gives an update on getting the right wedding blooms for your special day.
Meadow flowers are still very popular and great to use in the early spring. Create bouquets and table centre pieces made up from flowers that look like they have just been picked fresh from the garden to give a traditional home spun look. Think of flower fairies and garden parties of old and you will be getting the right idea. Brides might also like to consider a flower crown instead of a crystal tiara to carry on the theme.
Fresh flowers on wedding cakes are a growing trend. Consider the use of traditional roses between cake tiers, or for extra effect, drape flowers from the cake in a garland. If you want something dainty, you could opt for delicate orchids on the top, or for a modern twist, try colourful gerberas.
The perfect wedding blooms for decorating large venues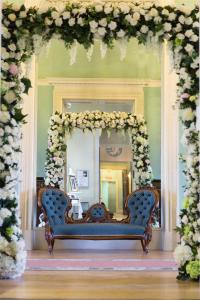 It's very important to consider the style of venue you have when choosing floral decoration. For example at Hylands we have a number of majestic palatial style rooms, so we often advise couples to choose subtle arrangements which don't compete with the ornate decoration of the room. Whereas in our Grand Pavilion, the decor is contemporary and stylish leaving the happy couple to choose floral decorations as extravagant as they wish.
To give the reception room some structure, consider flower arches to frame the top table and tall martini vases with a trail of flowers spilling down on the tables. When selecting flowers think of colour: again a setting such as the Grand Pavilion allows you to be as adventurous with colour as you like, due to the room's ivory backdrop.
Don't forget scent too as some flowers such as roses, gardenias, sweet peas and freesias can fill the room with a wonderful perfume ready for your entrance.
Ceremonies
Many couples now choose a licensed venue which is suitable for both the ceremony and reception. Hylands Estate is a good example of a venue that features both stately rooms that you may wish to choose for the ceremony and a Pavilion for large evening receptions. Venues such as this can cater for weddings both large and small. In terms or decorating ceremony rooms, think about the type of room you are using and flowers that complement the decor. You may wish to choose pretty pedestal arrangements either side of the aisle, or tie backs on chairs with a delicate rose pinned in the middle.
To find out more, visit www.hylandsestateweddings.co.uk