Leeds Marriott Hotel has been setting the scene for courting Yorkshire couples for decade.
Boasting a unique landmark that has been attracting brides and grooms-to-be throughout history. There's a lovely story behind it. In 1865, businessman John Dyson bought two cottages at numbers 126 and 127 Briggate to set up a small jewellers, which now forms part of the hotel. Dyson installed a large and very beautiful clock on the front of the building, which has been an iconic Leeds landmark ever since.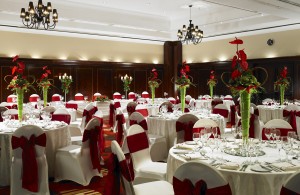 A smaller clock was then added in 1910 to celebrate the birthday of John Dyson's wife, Lucy Ann, given to her as a present by her beloved husband.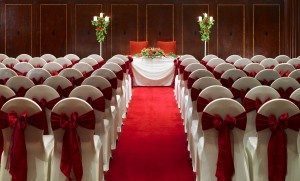 In the late 1800s and early 1900s, Dyson's Clock was used as a meeting place for courting couples and many a love story began under the handsome clock over the years. The clock still attracts young couples today, who meet under it to go on first dates. We seem to be having a romantic resurgence in Leeds at the moment, with more and more couples looking to city centre venues to celebrate their big day in their own special way. This might be to do with the history of the area or the convenience and buzz of the location, but Dyson's Clock is still a point of interest for those looking to get married in the area.
The clock obviously creates a stunning backdrop for wedding photography at the hotel and the quiet, leafy courtyard setting is very romantic. With this in mind, the city centre is also right on the doorstep and the hotel hosts up to 300 wedding guests, offering a unique combination of history, elegance and convenience.
Emma Wood
Senior Event Manager at Leeds Marriott Hotel