La Fête, the luxury wedding planning service, wins 'Best Planner/Stylist' in the 2019 UK Wedding Awards. Led by leading bridal publications You & Your Wedding and hitched.co.uk, the UK Wedding Awards recognises and rewards the very best of the industry.
Every year You & Your Wedding and hitched.co.uk ask the public to vote for their favourite venues, suppliers, retailers and designers for the UK Wedding Awards. This year, hundreds of entries flooded in and a panel of experts whittled down the shortlist. From there, tens of thousands of brides and grooms voted across all categories. La Fête was originally nominated for the best planner/stylist award and then got shortlisted among nine other top-tier wedding planners, ultimately winning in the end.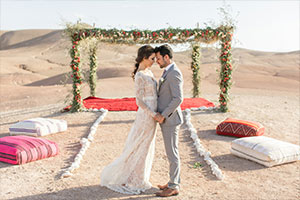 Humbled by the positive response from the public, Founder and Creative Director, Charlotte Ricard-Quesada comments, "I am so thrilled and excited that La Fête has won this award! Not only is it extremely validating to know that the public is connecting with our projects and aesthetic, but it is also a proud achievement for us as a young company in the industry. Thank you once again to everyone who voted for us and remember to stay tuned as 2019 promises to be our biggest year yet!"
La Fête is a boutique wedding & event planning company, creating once-in-a-lifetime experiences.
This multi-lingual and multi-cultural business operates internationally, bringing to life everything from traditional stately home weddings to extravagant ceremonies complete with real-life unicorns. Their complete wedding service includes: a complimentary consultation, expenditure planning service, timeline creation and organisation, venue sourcing, administration and payments, supplier sourcing, styling and creation, event day management, respect of etiquette and traditions, general assistance, and pre/post-event service. At the end of the day, making the impossible possible is truly what La Fête stands for.
La Fête continue to exceed their clients' expectations, making sure to not just create experiences, but memories. 
To check out past projects of La Fête, visit their digital portfolio or enquire about an upcoming event or wedding using their online form.