Soon to be newlyweds win dream winter wedding at luxury New Forest venue following nationwide competition
 
 A couple from Waterlooville are celebrating winning a dream winter wedding in a national competition – having secured the backing of thousands in a public vote.
 
To celebrate its 1,000th wedding, Balmer Lawn Hotel & Spa, a 4-star New Forest wedding venue, launched the nationwide competition to give away a free winter wedding to one lucky couple.
 
Having whittled down dozens of hopeful entries into a top 10, the hotel presented them to the public – allowing them to determine the worthiest winner once they'd had a chance to read the individual stories of the finalists.
 
Kerri Vinall and Sam Stokes, following the casting of more than 6,000 online votes, emerged as the winning couple with 33% of the share – equating to just over 2,000 votes for them alone.
 
The win now sees them set to marry at Balmer Lawn Hotel next winter, under the guidance of Ruth Mundy, the hotel's dedicated wedding co-ordinator, who will ensure their planning goes perfectly.
 
Meanwhile, the second and third placed couples – Rachael Bailey and Beonard Kola with 20% of the vote share, and Emma Keyworth and Duncan Broomfield with 15% – have also won a £1,000 discount off a Balmer Lawn wedding.
 
The winners, Sam and Kerri, have been together for two and a half years, having started out as a workplace romance – with the fires of love kindled at a colleague's party. From there those fires have only got stronger, with the couple having got engaged and now with a baby recently added to their family of six.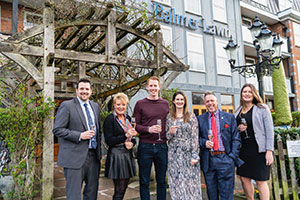 It might have been Sam's proposal which struck a chord with the voting public, as after re-enacting their first date (where they went rock climbing), Sam then popped the question on a rose-petal laden blanket at Swanwick Lakes, using a scrap book of their time together, with the final page reading, "Will you marry me?"
 
Commenting on their win, Sam and Kerri said: "We couldn't believe it when we were told we'd won. We're absolutely thrilled! It's so exciting to think we can start planning a winter wedding in earnest. The New Forest holds many happy memories for us, so we're delighted to invite our friends and family there to celebrate our big day – once the plans are further along of course!"
 
They added: "Winter in the New Forest is a beautiful time of year, so we'll be hoping for some snowfall to add that extra element to our wedding photography. But it's wonderful to know our dream wedding can now start to become a reality."
 
The hotel invited couples to use 1,000 characters to outline why they should win, a bit of their back story and their favourite song as a couple (along with the meaning behind it) to help present their case, with extra points awarded to those who submitted a Marryoke effort as part of their entry. The entries were then presented online for the public to submit votes.
 
The winning prize covers the cost of catering for up to 50 guests, including arrival/toast drinks, a 3-course meal, glass of wine per person, tea & coffee, evening buffet, and wedding video – adding up to a prize value of more than £5,000.
 
Michael Clitheroe, General Manager at Balmer Lawn Hotel, said: "It's a fantastic feeling to give away a wedding – and we're really looking forward to helping Sam and Kerri plan their big day. Given the size of the vote share, it's fair to say they're very worthy winners and clearly the popular option amongst the public. We'll now start putting the appropriate plans in place to ensure they have a truly wonderful day when the time comes around."
 
Michael concluded: "Alongside Kerri and Sam, we'd also like to congratulate Rachael and Beonard, and Emma and Duncan on their second and third placed finish. Hopefully, we'll also be helping them to plan their wedding in the near future."
 
Balmer Lawn Hotel & Spa is a 4-star hotel and wedding venue in the heart of the New Forest, close to Lyndhurst, the National Park's natural capital. For more information about the hotel and its facilities, please visit https://www.balmerlawnhotel.com/.