AFTER a spike in coronavirus infections nationally, the government has reversed its decision to allow wedding receptions of up to 30 people to go ahead from 1 August.
At the end of June, the Prime Minister announced that the strict restrictions on wedding and civil partnership ceremonies and receptions were set to ease, allowing up to 30 people – including the couple, guests and suppliers not employed by the venue (such as the photographer) – to attend a wedding reception in England, as long as they complied with social distancing rules.
However, speaking at a Downing Street press conference on 31 July, Prime Minister Boris Johnson said: "Wedding receptions of up to 30 people will not be permitted, but ceremonies, of course, can continue to take place in line with Covid-secure guidelines."
Kiren Cox, associate and solicitor in Nelsons' dispute resolution team, discusses what rights couples have if they need to change or cancel the plans they had in place for their big day.
My ceremony is still taking place, but now, the reception is unable to go ahead. Is my venue able to keep the reception money and insist it takes place at a later date?
"The contract should be checked to see whether there are provisions that deal with this particular scenario. I'd be surprised if many – or, indeed, any – contracts entered into before the pandemic contain provisions for the current situation.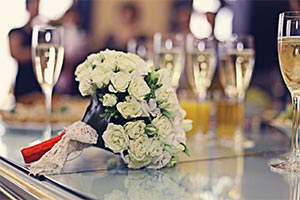 "If the contract doesn't address this particular circumstance, I do not think the venue could insist on moving the reception. It'd be a variation of the contract, which the couple would have to agree to. In the unlikely event that the contract does set out a right for the venue to insist upon this, we'd be looking at whether such a clause is fair or not. It is difficult to see how a term of contract such as this – that'd allow the venue to unilaterally decide when the reception will take place – would be considered to be fair."
I want to postpone my wedding reception – what should I do about my suppliers?
"With most wedding bookings, you pay a non-refundable deposit when booking and the remaining balance closer to the date of the ceremony. If the wedding doesn't go ahead as planned and it is you cancelling, you may still be obliged to pay the full cost of the supplier.
"There are a fair few people who do not go to the extent of reading the small print when signing contracts as, in reality, they're too busy thinking about their wedding plans. And despite a venue suggesting taking out wedding insurance, there will still be a percentage of people that ignore this advice as they don't believe anything will go wrong – let alone a global pandemic.
"However, if you have been unfortunate enough to have your wedding plans scuppered by coronavirus and are now in disputes with your wedding suppliers regarding refunds and amendments, there are some things you can do.
"The legal issue here is that there is a request by one party to vary the terms of a contract. In this case, it would be to move the date that was originally agreed. Of course, if you're postponing your date, your suppliers may ask you to choose a less popular day or pay a supplement for peak times. In terms of ascertaining how rigid the terms of your contract are, you should ask:
Are there any circumstances in which the contract allows you to cancel and request a full refund? If not, how do the terms favour the supplier? 
Does the contract allow for any amendments to be made in any type of circumstances? For example, does the document say something like "in the event there is an 'act of god', we will allow you to amend the date of your event".
Has your supplier been in contact to offer you any alternatives to your event date? If so, are these suitable/unsuitable and why? 
During negotiations/contact with your supplier, have they advised you whether they have consulted their insurers?  
"It may be that there is a possibility of you claiming a refund if you are able to show that the terms of the contract wholly benefit the supplier, with no regard being given to you as the other party. Additionally, the contract could include terms that are deemed to be unfair to you as a party to the contract. Finally, if the suppliers are making proposals that are beyond the contemplation of what was initially agreed, it is arguable that the contract is no longer capable of being performed."
Is there anything else I should be aware of?
"The most relevant question is 'what does the contract say?'. Most wedding venues will have fairly comprehensive terms and conditions that the couple will be required to sign up to so as to secure the venue and their services for their big day.
"All of these contracts will be subject to the Consumer Rights Act 2015, and so terms will be unenforceable if they are unfair. The act includes terms that will automatically be considered to be unfair, as well as terms that are likely to be considered to be unfair.
"In addition, even if a term doesn't fall within one of these two categories, it will still be subject to an assessment as to whether it is a fair term or not. Whether a term is fair will depend not only on how it is drafted – terms in consumer contracts should be plain, intelligible and legible – but also the following:
Is there a significant imbalance in the rights of the parties to the contract (e.g. the couple and the wedding venue)?;
If so, is that imbalance detrimental to the couple?;
If so, is the detriment that would be suffered contrary to good faith, either in the matter of the detriment or the extent of the detriment?
"If the answer to all of those questions is 'yes', the term will be unenforceable.
"In addition to the Consumer Rights Act legislation, anyone who is due to get married but is concerned about what their wedding day will be like – bearing in mind the restrictions on numbers/requirements for social distancing – should consider whether the contract has been frustrated.
"This is a legal doctrine that may allow for a contract to be terminated if an unforeseen event occurs after the date the venue and the couple signed the contract. It only applies where the contract does not address the circumstances that have come to pass if the nature of contractual rights and obligations have been altered significantly (or the contract cannot be performed at all), and if the unforeseen event has not been caused by either party's conduct."
What should I do if I think my venue isn't acting fairly and is forcing my wedding to go ahead when I'm not comfortable with it?
"Ultimately, while I'd encourage couples to try and reach an agreement with the venue, it is their big day and it's entirely understandable that they'll want it to be as they'd planned it – celebrating with as many of their friends and family as possible. Consequently, if they can't reach an agreement that works for them, they should take legal advice as to the options available to them."
For more information or support, please visit www.nelsonslaw.co.uk/business-disputes or call 0800 024 1976.
Event Date:
Monday, August 10, 2020 - 11:00