Why Organic? Choosing organic means choosing food as it should be. Whatever you're buying, when you choose organic, you choose products that have been produced to the highest standards. Organic food must be certified by law, so you can be assured that the product and ingredients come from verified sources. Soil Association Certification certify over 70% of organic food in the UK, and all organic businesses are inspected at least once a year. It is the most rigorous of any independent food standard audit process, so the organic label is the best way of assuring that the food you eat has been produced to a standard you can trust. Organic always means fewer pesticides, no artificial additives or preservatives, some of the highest standards of animal welfare and no GM ingredients. 
Why Organic Wine and How to Choose?
Organic wine is a great option for the festive wedding dinning table or even just as a gift for the Bride and Groom. Soil Association certified winemakers work with nature, rather than against it. They use techniques that can help increase biodiversity on their vineyards including 'cover crops', which are used between the vines to attract beneficial insects that are the natural enemy of the problem species who eat the grapes. This technique works as a self-regulating ecosystem for the vineyard and helps to protect the crops in a natural way – one that means organic wines can be made without reliance on synthetic fertilisers or pesticides. Also, no herbicides, including glyphosate, are permitted in organic wine production.
Organic wines also have lower levels of Sulphur Dioxide – an additive commonly used in wine that some people can have an allergy or intolerance to, causing headaches and other unwanted symptoms. Soil Association certified organic wines go a step further by not only limiting the amount of sulphur that can be added to wine, but also the levels of so-called 'free' sulphur dioxide that are left in the bottle after the winemaking process.
As with all organic produce, be it food or drink, choosing a product is all down to personal taste and preference. There are now dozens of organic wines on the market that vary in terms of depth, complexity and flavour profiles, offering something for everyone this festive season.
Here are our top five Organic Wine recommendations:
·       Giol Prosecco Frizzante Bianco IGT Veneto from Vintage Roots: RRP £10.75
Since 1986, Vintage Roots have been the UK's leading supplier of organic and biodynamic wines and drinks. This bottle is truly a winner all round, with a sweet, fruity and semi-sparkling finish. Sparkling wine is vinous shorthand for a celebration, and this beautiful bottle is great fun, great value and suitable for all.
·       Limney Estate 2013, White from Davenport: RRP £27
This white sparkling boosts notes of ripe apple and citrus fruits with a dry finish and a long lasting flavour. It spends three years maturing in the Davenport cellar to achieve the complex, developed and yeasty aromas specific to their flagship wines. This is a bottle that tastes delicious to drink now, or could be cellared for several years making it the perfect gift for any budding wine connoisseur.
·       2016 Ortega Wine from Forty Hall Vineyard: RRP £13.99
This mouth-watering wine has notes of apricot and white peach which is clean and fresh on the palate creating a smooth, dry white wine with a long finish. The perfect bottle for any white wine lovers.
·       Stellar Merlot, no added Sulphur from Vintage Roots: £8.40
Another incredible organic wine from Vintage Roots comes in the form of this deep red Merlot. Ripe on the nose with hints of jasmine and dark perfume, with well-structured tannins from post-ferment maceration and no added Sulphur makes this wine a delight from start to finish.
·       Diamond Fields Pinot Noir, 2016 by Davenport: £19.50 
An English organic Pinot Noir at its finest. This 2016 was grown on south-facing sandy clay soil and then matured in old oak barriques for nine months before bottling. It has great depth and complexity with flavours of oak and blackberry. Keep for up to three years and watch it mellow and mature or enjoy fresh and young.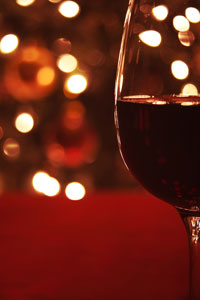 Food Wine Pairings from John Beveridge, Wine and Spirits Advisor at Vintage Roots - a Soil Association certified company:
Weddings are all about indulging in good quality food and drink and spending time with your friends and family. White meat is still the most popular choice and it's a meat that goes equally well with both white and red wines, so there is something to please every taste. Organic birds tend to be breeds that are slower growing and more robust. This puts less strain on their bodies and allows them to develop strong bones and muscles in a truly free-range environment. Their life is usually almost twice as long as that of an intensively reared bird, which can mean a more flavoursome meat. As white meat is lean and normally combined with roast potatoes, stuffing and gravy, it can be a salty and heavy meal overall. The best bet, therefore, is to go for a fruity, low-tannin wine with a little acidity to be able to cut right through all the flavours of the food and create a balanced palate. John recommends the following five wines, which go just as well with nut roasts for vegetarians or vegan eaters as they do with white meat.
For whites, the classic option would be a French Chardonnay such as their Macon-Villages from Domaine de la Verpaille, which is a beautiful unoaked wine from the Burgundy region made from 100-year-old vines. It has aromas of pear, white flowers, lemon and a soft, creamy palate.
But of course, there is no reason you can't go for 'New World' Chardonnay, which often offers better value for money in terms of taste and quality. Chile, Australia and New Zealand are all making excellent Chardonnays, often indistinguishable from their French counterparts.
For red wines, Pinot Noir is the grape to look for. Traditionalists would opt for a red Burgundy – such as Michel Magnien's Coteaux Bourguignons, a biodynamic wine produced by Michel Magnien, one of the region's most progressive winemakers. This superb vintage has crisp, red fruit flavours and a velvety, elegant mouth feel – but if you want something a little more modern, New World wines offer great value options like John's favourite; the Adobe Pinot Noir Reserva, which has classic Pinot raspberry aromas with a subtle hint of vanilla and soft tannins.
Dessert wines are an underappreciated delicacy and are much more versatile than the name suggests. Try a Sauternes, such as the Château Dudon, 2013 – its classic blend is a beautiful concentrate with rich and deep honey flavours - the perfect starter alongside pâté or to finish with a cheese board or sweet desserts.
To tie in with the festive season, the Soil Association have launched their online Organic Collective Christmas Marketplace. The hub is the ultimate online one-stop location for fresh and festive ways to find, try, and buy organic food this Christmas. Visit www.soilassociation.org/christmas for more information.