Wedding photography can be one of the most expensive elements of your wedding day, so it's essential that you make the right decision when it comes to your choice of photographer.
You'll want to be 100% confident that the photographer you choose will capture all the special moments of your big day and in the style you want.
Which means that the first, and most important, decision you'll want to make is about whether you're after traditional or contemporary wedding photography, or a bit of both!
Traditional vs. contemporary wedding photography
TRADITIONAL WEDDING PHOTOGRAPHY
A traditional wedding photographer offers posed couple and group photos. They typically set up the shots, ticking them off from a list you've pre-agreed, and asks you and the guests to look and smile at the camera.
DOCUMENTARY STYLE PHOTOGRAPHY
An alternative approach is to hire a reportage-style wedding photographer. They offer more contemporary style images and won't usually offer to take any posed shots.
They like to keep a lower profile than a traditional photographer, blending into the crowd rather than directing the photos. And they will capture the genuine emotions of the day and the real events, as they happen.
The only potential downside of this approach is that unless the bride and groom stand together, they won't necessarily get a single photo together!
REPORTAGE WEDDING PHOTOGRAPHY WITH A FEW POSED SHOTS
Thankfully, if you like elements of both styles, you can hire documentary-style photographers, like me, who will still provide a small number of posed shots in the mix.
Although I'm not a traditional 'posed' photographer, I recognise that my wedding couples and their families usually want some group photos. So, I always tend to take a limited selection of group photos since these photos are still lovely to have.
But I certainly don't drag my wedding couples off for two hours for overly posed portraits! I'm fully aware that they have a party to be at and feel strongly that they should be spending their day with friends and family, not their photographer!
Which style is right for you?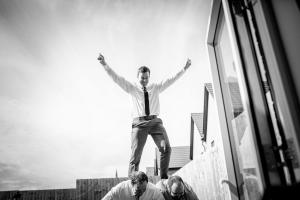 As you can probably appreciate, there's a big difference between these styles of photography. So, deciding on your preferred style, before you start meeting up with potential wedding photographers is certainly a great move.
If you do opt for a reportage-style photographer, be sure to ask them whether they are prepared to take any posed photos, or not. Not all are as flexible as I like to be!
Some may well refuse to do these for you, and that could be very embarrassing to discover on the day of your wedding if you haven't discussed this with them in advance!
Elegant wedding photography across Staffordshire and beyond
At Frances Stephenson Photography I offer relaxed contemporary, documentary-style photography. I capture the moments that matter for my clients on their wedding days, and feel that I've done my job well when my clients comment afterwards that they barely noticed me on the day!
The photographs I love to take are the ones where you can see the raw emotion – the happiness, joy and the pure loving glances between the wedding couple and as expressed by their family and friends.
These are just some of the key moments I aim to capture during weddings I photograph:
Exchanges between the bride and her bridesmaids as they prepare for the ceremony
The groom interacting with his best man and his friends before the ceremony
Dad crying when he sees his daughter in her wedding gown for the first time
The groom's emotional expression as awaits the arrival of the bride
The bride's and bridegroom's eyes meeting for the first time
Moments of tenderness between the bridal couple
The first kiss
Natural interactions between everyone at your wedding including between parents and their children on their wedding days
Any significant moments with a cultural significance or which are special to the family
The first dance….oh, the list goes on!
To me, these are the real moments that matter.
These moments, and more, are what excites me about wedding photography and it's what attracts my clients to book me.
And I believe that these are the photos that couples will want to look back on in years to come. After all, they become a visual storyboard of the events of the wedding day as it unfolds.
I see reportage-style wedding photography as capturing the true essence of the day. The photographs are unposed, more genuine and more real and, by their very nature, make every wedding completely unique.
http://www.francesstephensonwedding.co.uk
Facebook: https://www.facebook.com/FrancesStephensonWeddings/
Instagram: https://www.instagram.com/frances_stephenson_weddings/