The wedding cake is possibly one of the most established elements of a wedding day. From choosing the cake maker, design and flavour choice, to the ritual of cutting the cake together, it is undoubtedly an essential part of culinary planning. Traditionally, the wedding cake takes the form of a tiered masterpiece covered in thick white fondant icing and perhaps a few fondant roses.
This year however, the vintage inspired wedding cake is set to be huge! Sammi-Jo Gascoyne, established chef and owner of Blushing Cook, gives us her thoughts on what we can expect to see in 2016.
1 .  "Flowers. I've had so many requests for gorgeous floral designs, edible of course, using both fresh and dried petals. These floral designs are so popular at the moment, and I have many dried flower designs for people to get inspiration from."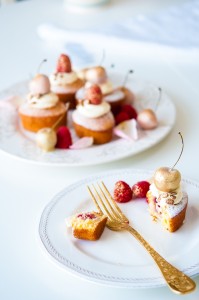 2 .  "Naked cakes are also hugely popular, and have a truly vintage feel to them. They're also perfect for people who don't like icing! Naked cakes look really rustic, and you can't go wrong with a good old British victoria sponge or lemon cake."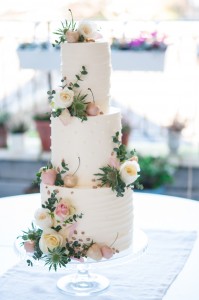 3 .  "I've been using lots of pearly shimmers lately which are inspired from vintage style. Sometimes I add a touch of gold to something simple, or dip cherries in white chocolate and shimmer with some pearl for a beautiful, elegant touch."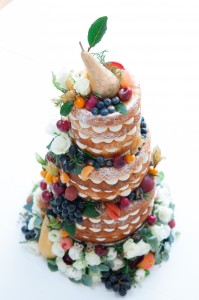 Vintage style wedding cakes are often very simple sponges, with a touch of shimmer, summer berries and floral designs. It's certainly the year to go back to basics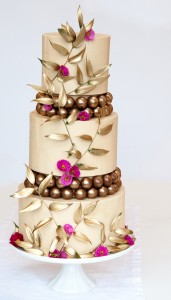 and focus on delicious flavours and vintage inspiration with touch of modernity! The naked cake is a perfect example of vintage meets 2016 chic, while fondant icing can be manipulated to create stunning decorative elements, with pearls and shimmer, for a more extravagant feel.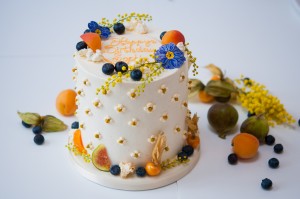 You can find Blushing Cook at Bride: The Wedding Show at Ascot Racecourse, the perfect event for brides-to-be to take a look at some of the finest local suppliers such as florists, caterers,photographers, cake-makers, travel experts and more, all under one roof. Visitors can expect phenomenal catwalk shows, a luxurious champagne bar, freebies and exclusive offers. Buy tickets here.
Sammi will be showcasing some delicious, fresh, floral, fruity and as natural as possible cakes with a touch of elegance at the event. Remember to ask Sammi about her about her natural recipes!