If you're looking to escape the busy summer season and create an original, atmospheric  wedding, then winter – all roaring fires and festive spirit - is the perfect time to do it. Follow the advice of Jenny Ashton-Smith, Wedding Coordinator at Cripps's spectacular new wedding barn, The Tithe Barn at Bolton Abbey, to create a memorable winter wedding setting:
Five tips for the perfect winter wedding
1.       Light the way: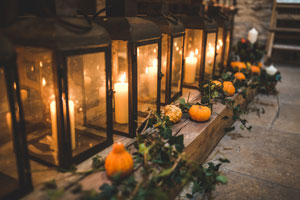 Use lighting cleverly to create a warm glow and festive atmosphere. Candles and tea lights are an easy, affordable way to create an intimate setting in virtually any space. For outdoor spaces and pathways try floor-standing lanterns, which bring fantastic warmth and light.
"Remember to make sure your photographer is fully aware of the lighting set up to ensure you get the best results in your wedding shots."
2.       Fire up: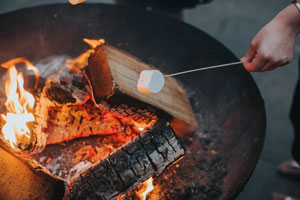 Crackling, log-burning fires add warmth, create flattering lighting and smell fantastic. They're another easy way to create a beautiful and romantic setting.
 "Outdoor fire pits can transform the cold, dark outdoors into warm, inviting areas for guests to chat, toast marshmallows and enjoy the crisp winter air."
3.       Winter warmers:
Winter's warm, rich colour palette provides a striking alternative to the paler colours associated with summer weddings, so use this to your advantage when thinking about decorations.
Use bold, deep, earthy colours like berry, forest green or gold to create wintery centrepieces and flower arrangements. Metallic sprays add tasteful glamour and are easy to use.
4.       Retro furs:
A winter wedding is the perfect opportunity to be more flamboyant and 'old world' with your outerwear. An ivory faux fur shawl adds instant elegant glamour to any bridal dress (and your guests may enjoy getting the furs out too!).
Faux fur throws over furniture and seating are also an excellent and very easy way to create an on-trend and rustic 'Scandi' feel.
5.       Winter tipple
Greet your guests at the door with a warming winter cocktail to set the scene. Choose a well-loved classic such as mulled wine, or collaborate with cocktail connoisseurs to devise your own signature cocktail using wintery ingredients such as cinnamon, clove spices, hot apple, warming bourbons...
Set within the breath-taking surroundings of the North Yorkshire hills the stunning new Tithe Barn at Bolton Abbey provides the ultimate romantic backdrop for your wedding day. Bookings are now being taken for August 2018 and beyond.
To find out more information about The Tithe Barn or to make an enquiry, visit Cripps