Combermere Abbey, the country estate and wedding venue on the Cheshire/Shropshire border, is celebrating the centenary of the current owner's family at the helm. While steeped in a thousand years of history, it was in 1919 that Sir Kenneth Crossley bought the estate and moved from Manchester in to the heart of rural Cheshire.
Sir Kenneth, then Chairman of Crossley Motors – the successful engineering firm founded by his father Sir William Crossley, was a passionate countryman, businessman and author. Overcoming personal tragedy with the loss of his son Anthony and grandson Francis before him, the historic estate is still in the ownership of his great granddaughter Sarah Callander Beckett who took over from her mother Penelope Bostock in 1992. In the past hundred years the house and estate has seen many changes, and during the Second World War became a school for pupils from St Helena's Eastbourne. The post-war years saw huge changes leading to severe dilapidation and disrepair of the Abbey and other historic buildings. A twenty-six-year programme of restoration and rejuvenation has turned the estate into a successful tourism and event business while still remaining a family home.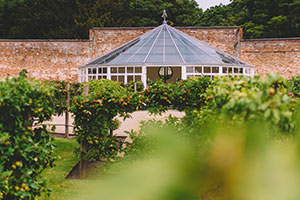 To celebrate this historic centenary, a new logo has been created and the estate will be hosting a series of special events: from a vintage car rally to an exclusive lunch with renowned interior designer Nina Campbell, who designed all the luxury interiors of the North Wing at Combermere Abbey. Combermere will also be launching a bespoke series of products inspired the estate produce, including jams, honeys and a Cheshire gin. Guests will be able to purchase them during their stays, and on any of the days the estate opens to the public throughout the year.
In 1870, Sir William Crossley co-founded the Manchester and Salford Boys and Girls Society, almost 150 years later this is now known as Together Trust – and it has been chosen as the estate's Centenary charity of the year. This extraordinary charity continues to provide special education, residential services, fostering, family support and community services to young people and adults throughout the North West. A fund has been created and monies from all the activities will support this cause. The staff have created a dedicated committee and two of the gardens team are running the London Marathon for Together Trust.
Sarah Callander Beckett, owner of Combermere Abbey, comments: "We're thrilled to be celebrating one hundred years as custodians of Combermere Abbey. The Crossley family has so many amazing stories to tell, and we are looking forward to celebrating this milestone with our friends and supporters with a year of exclusive events!"
Kaylie Chapman, Community and Events Fundraiser at Together Trust, adds: "We're delighted to be partnering with Combermere Abbey for their centenary celebrations. To have the support of the estate after Sarah's great-grandfather first helped to found our organisation all those years ago feels extraordinarily special."
For more information on Combermere Abbey and it's centenary events throughout 2019, visit here.