You're planning the bespoke luxury wedding of your dreams and you set your heart on a lovely country house in beautiful grounds for your big day and your hundred guests.
You draw up a shortlist of half a dozen hotels and arrange initial viewings.
You're shown around the properties and told just how bespoke they'll make your luxury wedding.
But how many others have been on the same conveyor belt and told exactly the same story? How many others have chosen their three course menu plus wine and fizz for a mere £120?
That's £12,000. Ouch!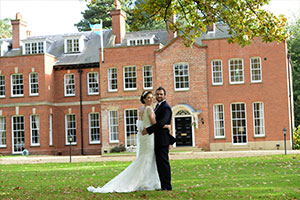 Then you've all the "suggested" extras that the hotels try to sell you at their "special" prices. You do the maths and find that your budget just won't stretch any further.
Wouldn't it be just amazing if you could find a luxurious country house with the freedom to choose every single supplier you want? A place where you can create a truly individual and uniquely bespoke luxury wedding celebration for your family and friends to enjoy. Somewhere where you just pay one rental price and build everything yourself in the surroundings of what is essentially a luxury country house hotel without the staff and food. Somewhere whose owners encourage you to bring your own drinks and who regard corkage charging as outdated and unnecessary.
Such places do exist, but they are rare, so when you find them, get in quick - they're very popular!
Have a bespoke luxury wedding that meets your budget
The rewards are numerous. You have total exclusivity in a property which is entirely yours; you can create a menu with an outside caterer of your choice to match your budget and save massively on the cost of hotel-based catering. You can run your own bar at sensible prices. You can even move the furniture around to create a more individual bespoke look. (Try doing that in a hotel!).
Obviously, it calls for a little more creative work than planning the average hotel-based wedding but that's half the fun. It will be so memorable because you will have put the whole event together! And financially, it's a no-brainer. You can save a lot of money and for newly-weds that's the perfect way to start married life!
So, if you want to save money and have a lot of fun, do consider the self-catering option – it really does make sense!
The author, Richard Platt, owns and runs award-winning Woodhall Spa Manor in Lincolnshire with his wife, Jasmine. They lovingly restored their grand period manor house and grounds in 2013 and have been offering self-catering weddings there ever since.
For more information about booking your bespoke luxury wedding please visit www.woodhallspamanor.com.