During World Vegan Month, we take a look at vegan wedding trends with Whirlowbrook Hall, a premier wedding venue in South Yourkshire…
What's not to love about the quintessential British tradition of afternoon tea? Combine that with a vegan wedding and you've got the wedding breakfast of dreams.  As more and more couples are looking for something a little bit different for their wedding catering an afternoon tea inspired menu fits the bill perfectly. Add to that a choice of vegan only sandwiches and cakes then you've really got a beautiful wedding that suits all tastes and food preferences.
Afternoon tea as the wedding breakfast is becoming increasingly popular for both large and small weddings.  And we are now working with lots of couples who are opting for vegan afternoon tea.  It includes specially made sandwiches and cakes, all made using vegan ingredients and made to vegan recipes accompanied by cups of vegan tea or vegan champagne.  As the number of vegans in the UK is increasing there are lots of couples who are vegan and those who aren't who want to go for vegan options to ensure that all the guests food requirements are covered by the menu and that no-one feels left out.  There's also such an amazing choice of dishes available that taste delicious that they really are spoilt for choice.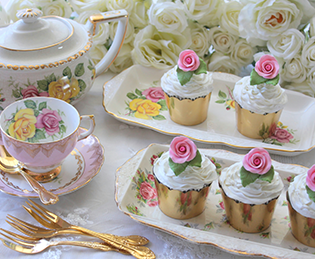 Serving a vegan afternoon tea as the wedding breakfast can work really well for a smaller wedding where there's just the one meal for everyone.  Just ensure there's lots of food for guests to choose from.  Create afternoon tea themed sharing platters on the tables to encourage guests to mingle and enjoy a relaxed atmosphere. If the wedding is a larger affair and the reception is going into the night, then consider serving beautiful vegan casseroles or vegan street food to guests later on.  
Afternoon tea is perfect for all age groups, from young children through to older guests so whatever the age profile its bound to delight everyone.  The decoration of the tables and the room can take on a vintage feel with lots of bunting, and beautiful English fresh flowers, low candles and fairy lights adding the finishing touches. The colourways will of course depend on the wedding party's outfits.  It all comes together to produce a truly wonderful occasion, with the most delicious vegan afternoon tea as the centre piece. 
For more information on Whirlowbrook Hall's vegan wedding options, see whirlowbrook.co.uk
@Whirlowbrook – Twitter
@Whirlowbrook – Facebook