Vows & Venues editor Victoria Galligan headed off to Leeds to review a wedding venue but soon felt she was holidaying on the Med…
If you live in or around Leeds you'll know what a bustling, vibrant and cultural city it is. For shopping, meals and a good night out, it's the perfect location. Situated just outside the thriving city, close to the M1 and easily accessible from the north, lies Thorpe Park hotel – and it's here where the pace of life slows down a little.
The first thing you notice when walking through the doors is that everyone is doing their utmost to relax – most guests are white dressing-gown clad and bound for the spa, swimming pool area or the glass-roofed courtyard bar. Decorated in light colours to enhance the natural daylight of the spaces, the interiors is beautifully modern and the hotel is impeccably maintained.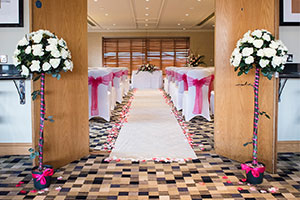 During our visit, there were couples enjoying a romantic break and groups of friends and family enjoying the hotel's excellent facilities – the spa was teeming with ladies off for massages, facials and pedicures, and the men weren't being left out either. There was a really friendly atmosphere, enhanced by the helpful and knowledgable staff who were only too happy to help. 
Cater for up to 140 guests at this Leeds wedding venue
Run by the House of Daniel Thwaites, the sandstone building is modern and purpose built for events of all types – civil ceremonies can be conducted here and its wedding space the Thorpe Suite is big enough to cater for up to 140 day guests. The Gallery Suite, with private breakout area, can hold up to 90 and for more intimate ceremonies the Private Dining area with al fresco terrace can be booked for up to 50 guests.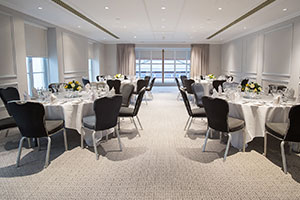 Rooms range in size and price from a Signature Double (from £79) to a Suite (from £129). Even the smaller rooms are spacious and offer a bath and separate shower, plus a seating area. The suites are much larger and provide a table and chairs in a sitting area which is ideal for brides and bridesmaids getting ready for the big day with suitcases full of equipment! 
In the evening we drank G&Ts by the pool, which made us feel like we were jet-setting off to some exotic location rather than just visiting the other side of the Pennines. The courtyard bar offers a huge range of gins and is fully equipped to provide cocktails from mojitos to Luscombe – which is Sicilian lemonade, organic sparkling apple, organic hot ginger beer, St. Clements, wild elderflower bubbly and organic raspberry lemonade, if you were wondering.
For our evening meal, we kicked off with a shared bread basket, which came with a choice of butter or dipping oils. Then I went even more Italian, and a starter of sumptuous calamari with spicy dressing followed by a main of tiger prawn linguine was polished of with a large glass of white. Hubby opted for pan-roasted breast of duck with Wakefield forced rhubarb and Yorkshire sauce – proving that locally sourced ingredients are used in the menu. For dessert, a lemon posset cleansed my palette while hubby's "Old-School Pud" of pear and almond cake was topped the best way – in vanilla custard.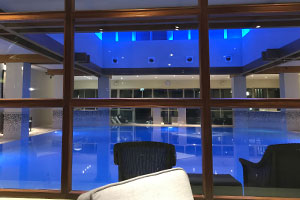 The best thing about a wedding at Thorpe Park it is that you'll want to make a full weekend of it to take advantage of the pool, spa and  gym. Your guests will love staying here and the wedding packages also include an anniversary stay – so you can recapture the feeling of pure relaxation one year on! 
For the wedding packages at Thorpe Park, see the wedding venue's website.