Planning beautiful weddings, celebrations and honeymoons in stunning locations for a worldwide client base, bespoke event planner La Fête offer once in a lifetime experiences. An expert in creating magical moments, here La Fête's founder Charlotte Ricard shares her ultimate tips for a winter wedding with the added wow factor.
1. Create a sumptuous ambience
'I love the fact that you can play with a variety of different colour palettes and textures in winter, such as deep greens and reds, and fabrics such as crushed velvet. This is a great way to give your venue a luxurious feel as well as a warm and inviting atmosphere. I always think winter weddings seem more magical somehow'
2. Embrace the indoors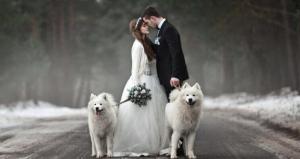 'When it comes to styling and aesthetics, there are actually many benefits to marrying in winter. Rather than having to keep everything crossed for a sunny day, embrace the fact that your celebration will be indoors and therefore less limited by weather conditions. You will be able plan your lighting and decoration exactly as you like and with many more options'
3. Save money (to spend on your dress or honeymoon!)
'In recent years we have seen a real growth in the number of winter weddings in the UK. This is due to summer weather being so unpredictable and the cost of weddings during these months still being on average very high. If you want to save a bit of money to splurge on the dress of your dreams or a honeymoon treat look to book your big day in winter'
4. Add heart-warming extras
'Food can be a really special aspect of a winter wedding. Guests love nothing more than coming together around a table to enjoy a deliciously warm meal. Having a cosy wood fire is a lovely option too'
5. Keep it classic
'There is nothing prettier than winter whites at a wedding! I love being able to use elegant whites combined with rich jewel toned winter colours. Combining them with beautiful frosted berries makes the whole winter wonderland come to life'.
Image source: WeddingVenues.com