Wedding season is upon us, you've got your beautiful dress, the invitations have been delivered, and now it's time to prepare for one the biggest days of your life. Whether you're opting for a minimal makeup look or a dramatic effect, researching the most popular beauty styles will help you to feel your upmost glamorous on the big day. And, who knows, you may even find that you tie in your look with the rest of your wedding theme, if you allow yourself enough time.
Long curls and dewy, glowing cheeks are just two trends that have captivated the wedding industry this summer. But, to inspire you further, we have put together a guide which has been shared by trend experts and runways to bring you a variety of looks across the beauty industry that are due to take the wedding season by storm.
Summer Hair Inspiration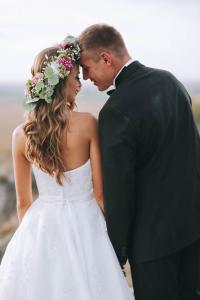 Before you choose your wedding style, consider your face shape. Oval face shapes suit long, flowing curls whilst round faces suit chic, side-parted buns. Brides with more square facial features should opt for a messy chignon bun and heart shaped faces carry off a soft, side-parted fringe or bob beautifully.
The best way to prepare for your bridal hair style is to book a hair trial with a professional stylist. If you already have your wedding dress, take a photograph in to show your stylist so they can adapt your hair to flatter your dress. You may also want to gather some pictures of wedding hair inspiration for extra ideas for your stylist. Keep your hair natural before you attend your hair trial so your stylist knows which styles will work best and complement your natural features.
Patrick Cameron, the world's leading long hair expert and supporter of the London Hairdressing Apprenticeship Academy (LHAA) said: "The dress will always dictate the overall look, each must complement each other".
He added: "If the gown has a cut away back, then soft hair cascading down always looks fantastic, where as if the gown has a high neck then an 'up do' might be a better choice, as to not crowd the face.  The bride's hairdresser will also take into account face shape and jaw lines, and recommend the most suited style".
Finally, remember to take your hairpiece along. You may have chosen a traditional wedding veil, or an alternative option such as an on-trend bohemian flower crown. But, if you haven't, explore The Shepherd's Purse accessory for something a little more out of the ordinary.
The Best Bridal Beauty Picks
Scent evokes the strongest memories, so consider wearing a fragrance that will exude happy memories suc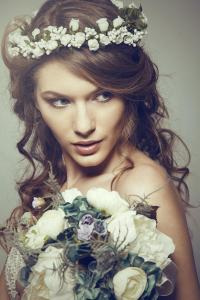 h as Estee Lauder Modern Muse Chic for a woody scent or opt for a floral fragrance such as Marc Jacobs Daisy Dream which is idyllic for the vintage and boho brides. Provide an air of enchantment and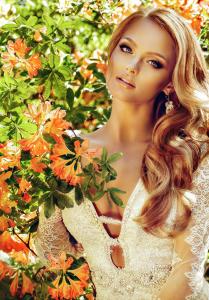 mystery with Jo Malone English Pear and Freesia, perfect for your classic wedding.
For your bridal makeup, opt for shades that accentuate your assets to complement your natural beauty. Blue-eyed brides should explore champagne or blush tones to make their eyes pop, whilst brown-eyed brides look striking with neutral and earthy tones – The Urban Decay Naked Eye Palette contains everything you need to establish your perfect look. If you have green eyes, opt for mauve shades, whilst grey eyes work well with metallics. Every bride needs a little colour on their cheeks. Pale pink is the most complimentary tone for fair ladies, whereas apricot tones look ravishing on medium complexions – Nars Luster is a wonderful choice for brides looking for a natural looking finish. Darker complexions require deeper tones – MAC Fever Blush is the ideal option which sports a deep berry hue.
Prolong your makeup by investing in long-wearing, waterproof products. A long day of celebrations requires smudge proof beauty. A lip stain like the Dior Addict Lip Tattoo for natural, weightless colour is ideal. Remember to use a waterproof mascara, such as Clinique High Impact Waterproof Mascara for serious staying power.
 
Event Date:
Friday, June 30, 2017 - 13:45