"You can't put a price on commitment". Clogau are proud to support the Fair Trade mining community and know that the 15% premium paid for fair-trade gold guarantees them a brighter future. As a gift from Clogau and as a thank you for choosing a piece from their Compose collection in fair trade and supporting them in their fight for better conditions, they will pay the 15% premium on your behalf, meaning that it will cost you nothing more!
Fulfilling hopes, dreams, and creating something unique and precious, are the primary inspirations behind the Clogau Compose® collection. A huge variety of ring styles have been carefully designed and crafted, and all of the Clogau Compose® rings include rare Welsh gold as used by British Royalty for over 100 years. They are the perfect gift for a loved one.
Six Styles to Choose From
ARIA (pictured, right)
Understated elegance is what encapsulates Aria's very essence. Purity and passion are reflected in her flawless nature. The elegant band of exquisite diamonds, combined with our iconic Tree of Life rose gold filigree complements the delicate design and stunning central diamond. The stylish and contemporary Aria wedding band has been designed to work in perfect harmony with the understated elegance of the Aria engagement ring. The band can also be given and worn as an eternity ring gift to show your love and commitment.
ELEANOR
A regal presence and shining light at every occasion, Eleanor's contemporary and captivating elegance is sure to charm everyone who sees her. As the mother of the first Prince of Wales in 1301, this captivating ring containing rare Welsh gold is as precious as its namesake. The engagement ring has been designed to marry beautifully with the complementary Eleanor wedding ring, making them the ultimate gift to express your devotion, commitment and future together.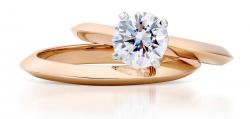 CAPELLA (pictured, right)
Our Capella engagement ring is a contemporary twist on a classic look incorporating subtle luxury and aspirational vintage design. The stylish setting of the single diamond is the ultimate symbol of timeless elegance. Let us guide you on your journey through the plans you are making and the joyful unity of your fairytale wedding waiting to unfold.
FREYA
A contemporary twist on the timeless emotions that her name represents, Freya was the goddess of love in Scandinavian mythology. Overflowing with tenderness and romance, Freya unites the bonds of true love. The two Tree of Life filigree hearts signify the joining together and support for each other in a committed relationship, united by the single diamond. The Freya engagement and wedding rings have been designed to sit intimately together and reflect the unity of the ceremony they represent.
SONATINA
Guaranteed to make an unforgettable gift for all the right reasons, glamorous and captivating Sonatina exudes allure and sparkle. Presentation is all encompassing and this fabulous design is the ultimate opportunity to be in the spotlight. The beautifully set band of exquisite diamonds, when combined with our iconic Tree of Life rose gold filigree beautifully complements Sonatina's sublime design. The complementary wedding band sits in perfect harmony with the engagement ring.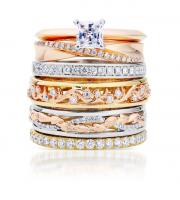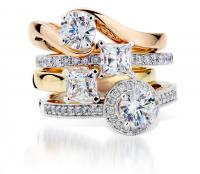 VALENTINA
Valentina's sublime contemporary design of a pure precious metal band on which your choice of sparkling diamond, cradled by our iconic Tree of Life rose gold filigree setting, is the ultimate gift or romantic gesture. Celebrate your love by composing a bespoke heirloom engagement ring.
Event Date:
Thursday, August 31, 2017 - 09:45