LUXURY high street retailer Goldsmiths have launched three new exclusive collections this summer including the striking Multi Stone Collection, the alluring D Colour Diamond Collection and elegant Mappin & Webb Empress Collection.
The Multi Stone Collection features stunning white gold and diamond pieces, from rings and earrings to delicate pendants. The new collection uses a state-of-the-art diamond setting technique which results in a much wider visual appearance, and one of a full stone rather than a traditional multi stone look. The Multi Stone Collection is guaranteed to make a statement with its sparkling nature and high impact design, and with price points ranging from £400 to £4,000 it's suitable for a variety of budgets.
The D Colour Diamond Collection features flawless stones which have been carefully selected to create timeless rings. The GIA colour grading scale states D is the rarest of diamond colours and is completely colourless. Jewellers use the alphabet to grade diamonds. This elite collection includes diamond rings in a platinum setting, with prices ranging between £4,500 to £18,000. Goldsmiths D Colour Diamond offers both contemporary and romantic designs for the perfect engagement.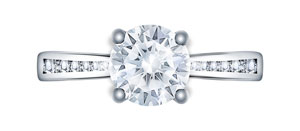 The quintessentially British brand Mappin & Webb has also unveiled the Empress Collection as part of the Exclusive Collections at Goldsmiths. The regal collection features a reinterpretation of timeless jewellery classics including ornate diamond earrings and pendants. The Empress Collection starts from £1,000 to £5,000 and marks a collaboration of two brands steeped in tradition and quality.
These exclusive collections are all available now at selected Goldsmiths' showrooms across the UK and online.