Brides to be are constantly looking for ways to save money and cut the cost of their big day. Sometimes the careful planning and budgeting means you end up having a simple yet elegant wedding day. Though there is the danger that the excessive skimping results in a cheap and tacky wedding.
And nothing says tacky like chocolate. Until now.
If you love chocolate as much as your groom, you may be delighted to hear that you can make sophisticated chocolate treats from the comfort of your own home.
Best of all, you can even make chocolate treats that are completely healthy and nutritious. 
The nutritionists and food engineers over at Push Doctor have created healthy chocolate recipes that would be perfect for a wedding dessert table.
Before you get too excited, the most important thing to remember is that the following recipes only used dark chocolate and you should be wary about the sugar content.
Goji Berries and Matcha Chocolate Truffles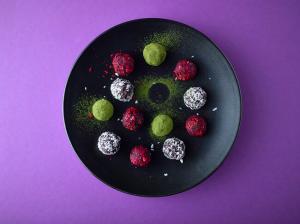 To make 9 truffles, you will need:
• 50g of grated dark chocolate
• 40g of coconut oil
• 25g of cocoa powder
• 20g of vanilla-flavored protein powder
• 20g of chopped pecan nuts
• 20g of chopped walnuts
• 10g of goji berries
• 25g of Matcha powder
How to make Chocolate Truffles
1. Place the coconut oil, dark chocolate and cocoa powder into a large mixing bowl.
2. Place the bowl on top of a pot of simmering water until the ingredients have melted into a mixture.
3. Remove from the heat and add the nuts, goji berries and protein powder into the mixture and stir well.
4. Leave the mixture to cool at room temperature for around two hours.
5. Roll the mixture into small balls about 4 cm high.
6. Put the balls into the fridge for half an hour.
7. Put the Matcha powder into a bowl and carefully roll each ball through the powder until it is completely covered.
Chocolate Fruit Salad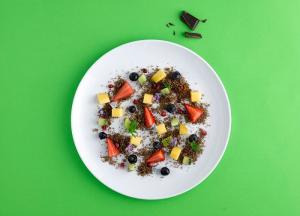 To serve one, you will need:
• 100g quinoa
• 20g dark chocolate
• 30g cocoa powder
• Blueberries, chopped mango, kiwi and strawberries
• Greek yoghurt
• Mint leaves
How to make a Chocolate Fruit Salad
1. Boil a pot of water and add half of the cocoa powder.
2. Add the quinoa and boil for a further 10 minutes.
3. Place the chocolate-y quinoa into a mixing bowl and add the rest of the cocoa powder.
4. Allow the mixture to cool in the fridge for 40 minutes.
5. Grate the dark chocolate over the plate
6. Sprinkle the quinoa mix across the plate.
7. Scatter the chopped fruit and mint leaves on top.
8. Drizzle a spoonful of yoghurt