A member of the country's most influential hairdressing dynasty, fourth-generation hairdresser Daniel was mixing hair colour when other children were doing finger paintings.
Despite initially wanting to be a journalist, hairdressing was in his blood and Daniel was soon working as a colourist at his father's Mayfair salon. After three years at Jose Eber in Beverly Hills, where his clients included Jane Seymour, Twiggy and Sharon and Ozzy Osbourne, he opened his own boutique salon in Belgravia. There he continues to count an array of A listers among his clientele, Johnny Depp, Kylie Minogue and Amanda Holden among them.
Aside from being one of the world's most sought after colourists, Daniel has also been at the forefront of the organic beauty movement since its inception, tenaciously lobbying on behalf of his industry and the wider organic community.
Daniel had always been careful about the products he used on himself, avoiding anything with harsh chemicals. This awareness increased after the birth of his son in 2000 when he discovered that chemical ingredients found in children's hair products, 60% of which are easily absorbed by the skin, can have the same effect as sugary junk food. In addition, they can also strip delicate skins of oil and lead to conditions such as asthma and eczema.
In 2002, Daniel was approached on behalf of Prince Charles to discuss becoming a licensee for the first ever Duchy beauty product range. Launched two years later, the brand has since gone a long way to educate consumers about organic ingredients and their benefits. 
In October 2012, in response to the growing demand for a natural and organic children's haircare and body range, but without the price tag, Daniel launched the Dubble Trubble range. Free from any parabens, SLS, mineral oils or animal ingredients, sales from this collection of five pH balanced hair & body washes and a detangling mist have so far raised an incredible £50,000 for The Prince's Trust. This sum has helped to fund the charity's support helpline, give one to one support mentoring to young people and fund places on enterprise courses that assist aspiring entrepreneurs to become self-employed.
2012 also saw the launch of Organic HeadTM, a collection of salon professional care and styling products, utilising organic and botanical extracts at an affordable price.
Available from Ocado, this collection has received rave reviews from the media and customers alike. It has also received a host of awards, including no less than two winners' trophies at this year's Beauty Shortlist Awards.
A year later, to coincide with the birth of Prince George, Daniel co-created the Highgrove Baby collection in association with renowned aromatherapist Alexandra Soveral.
This unique and award-winning range of balms, oils and cleansing products, formulated with a delicate fusion of soothing organic ingredients, is inspired by the gardens at Highgrove House, the private residence of Their Royal Highnesses The Prince of Wales and The Duchess of Cornwall.
In autumn 2016 Highgrove Baby was followed by the launch of Highgrove Signature, a stunning collection of luxury unisex skincare and gift products.
As with Dubble Trubble, a donation from the sale of all Highgrove products is made to The Prince of Wales' Charitable Foundation.
Daniel also works closely with The Prince's Trust within his salon and also across the product range. To help young employees he has devised a retail training programme called Headstart. 
http://www.danielgalvinjunior.com
Hair 1 - The sophisticated ballet bun works perfectly for a sleek and refined bridal look. First secure brushed hair into a ponytail centrally with a bobble. Twist the hair around and secure with bobby pins. Remember to leave a bit of hair to twist around the base to hide the bobble. Finish the look with Daniel Galvin's Organic Head (Oh!) Extra Hold Hairspray for a long lasting hold.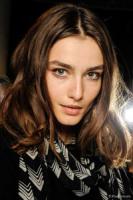 Hair 2 – For the Rock n Roll bride. This timeless look is everyone's favourite, done but not too done, sultry for day and evening. Why waste time with tongs and straighteners, simply apply Daniel Galvin Junior's Organic Head (Oh!) Huge Hair Mousse, take big sections and loosely twist away from the face. Use a diffuser to finish if desired.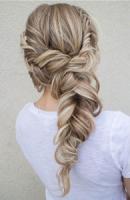 Hair 3 - A great look for the Boho bride. Start by curling your hair and teasing it at the hairline to create volume (use Organise Head Huge Hair Mousse for extra va va voom!) then use your creativity to produce a combination braided look. Looser and more relaxed fishtails look more interesting and you can vary the size of stands to make it more distinct. Daniel Galvin Junior's Organic Head (Oh!) Extra Hold Hairspray will add texture and hold.