Begin married life in health and wellness whilst making a positive impact on the environment, as Health and Fitness Travel, the wellness holiday specialists, share their best eco-friendly healthy honeymoon destinations for green-conscious couples. With a choice of award-winning eco-friendly luxury wellness retreats, travel abroad happy in the knowledge that these hand-selected wellness retreats actively support sustainable tourism.
From romantic eco-forest walks in India to nutritious organic cuisine grown onsite in New Zealand and natural therapeutic spa remedies in Africa, return home from these eco-friendly healthy honeymoons, feeling more connected to your loved one, and to nature.
Italy: Lefay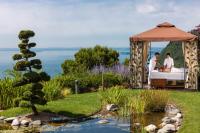 Situated on the shores of magical Lake Garda, this eco-friendly honeymoon destination values the connection between personal and environmental wellness. From the heat insulation and local natural materials used in the eco-designed architecture, to the use of renewable alternative energies, Lefay actively promotes eco-sustainability. Safe in this eco-friendly knowledge, begin your wellness honeymoon boosting your health and fitness with one of Health and Fitness Travel's exclusive Fusion Fitness holidays. Personalise your honeymoon to suit both of your wellness needs with a variety of activities, including total body sculpt, yoga and Tai Qi. Ideal for a fitness honeymoon, after setting your hearts racing, unwind side-by-side with a relaxing luxury spa massage.
New Zealand: Aro Ha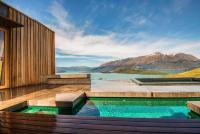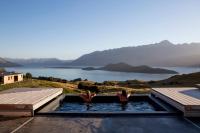 Encircled by New Zealand's stunning Southern Alps, luxury wellness retreat Aro Ha fuses eco-friendly accommodation with self-sufficient cuisine, using locally produced organic ingredients from their onsite garden. The perfect eco-friendly destination for adventure and wellness honeymoons, enhance the connection between yourself, your newlywed and the environment around you with sub-alpine hiking and kayaking across the lake to the natural bird sanctuary of Pigeon Island. Complement TRX, yoga and meditation sessions with daily therapeutic spa massages and unlimited use of the water therapy suites, to ensure you both begin married life in optimal wellness at this breath-taking eco-friendly honeymoon destination.
India: SwaSwara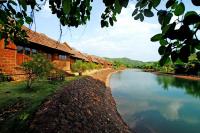 Escape to this luxury holistic and eco-friendly honeymoon destination in India, secluded unspoilt countryside with breath-taking ocean views. This green retreat offers healthy rustic cuisine, using only the freshest ingredients, with fish caught in the nearby sea and fresh fruit and vegetables grown in the on-site garden. Get closer to nature with a romantic guided nature walk and bird watching trips to learn more about local wildlife, flora and fauna. The perfect eco-friendly health retreat for a luxury spa honeymoon, relax after months of pre-wedding stress with sunrise yoga, sunset mediation and holistic spa treatments, from cleansing aroma salt scrubs to Ayurvedic relaxation massages.
Africa: Karkloof Safari Spa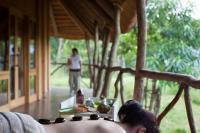 Working with environmental and wildlife professionals to restore the region to its natural splendour, the surrounding ecosystem of the eco-friendly Karkloof Safari Spa in South Africa, is happily once more home to a diverse range of indigenous fauna, flora, wildlife and birdlife. The perfect eco-friendly destination for the ultimate luxury wellness honeymoons, newlyweds will love indulging with unlimited spa treatments using natural ingredients, from a Maldivian black pepper scrub to a coconut body polish. Explore your natural surroundings together on this healthy honeymoon as you spot local African wildlife with private guided safaris, hikes, fishing and mountain biking.
Costa Rica: Florblanca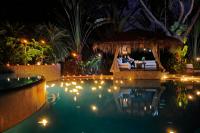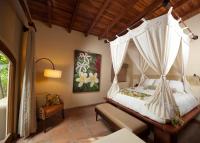 Make a healthy getaway to the white sandy beaches of Costa Rica where this eco-friendly honeymoon destination boasts immense luxury combined with natural living. Using natural ingredients for relaxing therapies such as mud and coconut oil treatments, pamper yourselves at the beautiful Spa Bambu. Relish in the different activities you and your loved one can enjoy, from horse riding to surfing at this fantastic eco-friendly destination for an activity honeymoon. Take advantage of group fitness classes, including yoga and pilates, to improve your fitness levels and leave you both feeling ready to begin your new life together.
For advice, guidance and booking visit www.healthandfitnesstravel.com or call 0203 397 8891
About Paul Joseph:
Wellness Travel Specialist and Entrepreneur, Paul Joseph, is the co-founder of Health and Fitness Travel, a global leader in wellness holidays worldwide. Always ahead of the curve in pioneering new health programmes that revive the soul, boost fitness or address serious health issues, the worldwide wellness tourism industry has now become a multi-billion sector, growing faster than travel in general. Paul has a wealth of PR, Marketing, Sales and Management experience in the health and tourism industry, consulting leading hotels on their wellness strategy and contributing regularly to broadcast and media interviews.
About Health and Fitness Travel:
Health and Fitness Travel is a global luxury wellness travel company that originated in the UK in 2010 and is committed to providing healthy holidays that enhance and change lives. Created by Paul Joseph and Adam Heathcote as a result of their passion for health and fitness travel and offering bespoke holidays to improve people's well-being to lead happier and healthier lives.
Health and Fitness Travel offers clients a tailor-made seamless service with the very best health and fitness holidays, handpicked by its expert team, together with exclusive and added value packages with the best deals. As leading specialists, Health and Fitness Travel has also created their own collection of trademark healthy holidays in various destinations which include Fusion Fitness™ BodyBreaks™ and Discover Recover™, offering clients the best value and holiday experience. For more information visit: www.healthandfitnesstravel.com
Like us on Facebook
Follow us on Twitter (@hf_travel)
Follow us on Instagram
Join  us on Google+
Follow us on Pinterest
Event Date:
Thursday, August 3, 2017 - 13:15