When it comes to wedding décor, couples are looking up for inspiration. In order to maximise space and create a stunning venue, 2017 has seen vertical decorations take centre stage. Small hanging arrangements can easily look lost in large spaces, so sometimes you need to think big and bold with statement feature-pieces such as floral arches, swings and chandeliers.
This is a trend we're really excited about – our giant teepees have so much space above eye level (often going unused) it's high-time it was
put to good use. As hanging features grew in popularity our in-house team developed this fantastic giant rustic hoop. At 6 meters in circumference, the hoop offers maximum impact.

Credit: Natasha Cadman Photography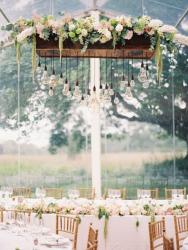 Credit: Amy Fanton Photography


It can be covered completely in greenery or adorned with floral rain and bright draping to fit your
wedding's theme and create a dramatic focal point in any large space.
As well as being neutral enough to hang simply adorned with its own fairy lights, it can be adapted to many floral applications and is engineered to be lifted and raised with ease for dressing.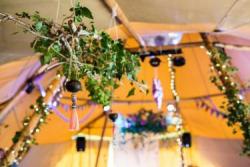 Credit: Natasha Cadman Photography


The Flower Shop Ossett

This is an impactful way to use a space which is otherwise difficult to reach, and without the use of specialist ladders.
Lighting needn't be restricted either – we created a bespoke piece from reclaimed timber and pendant blubs which works effectively above rustic bars and can be dressed with greenery and florals.
It's a perfect DIYer for those with creative hands and time!
Ready to try hanging decorations? Here are some tips:
When dressing a large hanging piece, make sure to complete it before your tables are set. This will minimise foliage dropping on tables and means you'll be able to gain free access.
Always think more! It's easy to underestimate how much material/foliage is needed to make an impact with a large feature. If you think you have enough- add 50% and you'll be somewhere near.
Hanging florals really do make an impact so it's worth a portion of the budget to really wow your guests with a focal point.
By Laura Drury (pictured), director of Totally Tipi
Twitter: @totallytipi
Facebook: @totallytipi
Event Date:
Friday, September 8, 2017 - 10:15