What does a honeymoon mean to most newlyweds? Sandy beaches? Crystal-clear oceans? Luxurious accommodation?
Or maybe not …
In an uncertain financial climate, and following an expensive matrimonial ceremony, the honeymoon is a chance to be (realistically) relaxing.
Glamping has moved from being a niche type of vacation to a 'must do' holiday particularly with regards to time off following the nuptials.
And the choice is vast … posh shepherd's huts; shiny airstream trailers; beautiful bell tents; private wooden Wigwams …
So how does 'glamping' and 'honeymoon' fit together?
First of all, the term 'honeymoon' is fascinating. What does it mean?
Research suggests the term is based on the traditional holiday taken by newlyweds celebrating their marriage, helping establish their new life together.
In 19th century Britain, wealthy newlyweds would go on a bridal tour, often with family and friends in tow, incorporating visits to guests who couldn't make the ceremony. 
This seems far removed from today's expectations of a romantic location well away from family ties!
There are also links to the ancient practice of drinking mead, a honey-based alcoholic drink, for a lunar month following the marital ceremony.
However, as we all know, the honeymoon is the chance for happy couple to relax and be together without distraction before returning to the domestic routine.
So returning to the 'glamping' discussion … when glamping first started, it was a phrase that morphed  'glamorous' and 'camping' into one word, and impacted heavily on camping expectations … suddenly, the world of outdoor-inspired holidays became appealing to a wide range of people, including honeymooners.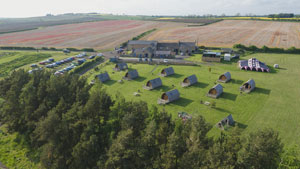 Glamping can now include heated, insulated cabins; romantic lighting; fresh bed linen scattered with rose petals; private hot tubs; soft-flamed campfires; chilled Prosecco and lots more.
If you are honeymooning by way of a glamping break, staycation or both, there's lots in your favour: no passport panic, no exasperating airport delays and more than likely it's a heck of a lot cheaper!
And while an exotic, coconut-strewn beach is often seen as the ideal honeymoon location, then glamping can match it in terms of a peaceful, romantic break away from it all.
And glamping can be your partner for life when taking those well-earned holidays either as your main holiday, an additional short break, an anniversary celebration, a pre-wedding chill-out session, a birthday occasion  … the list is endless. 
Of course, many of us will have the all-singing, all-dancing trip to a distant shore … yet glamping is just as memorable, and you won't get jet-lag either ….