Weddings are becoming bigger and more extravagant with each coming year, while there are also many couples who opt for a small reception with only the closest friends and family. However, no matter the size of a wedding, there are some trends that almost every couple seems to follow in 2017.
If you and your partner are tying the knot this year, you can incorporate the latest wedding trends set by wedding professionals and make your big day truly special. Here's what they are. 
Shiny in Gold and Silver
One of the biggest trends this year are golden and metallic accents. Couples are incorporating the color of gold in wedding décor more and more, so you can see gold vases for the centrepieces, gold candelabras, gold letters on all the place cards, and even gold accents on tablescapes. Even wedding cakes are a part of this trend, and more and more couples are going for white-and-gold cakes, usually all-white with some shiny golden accents.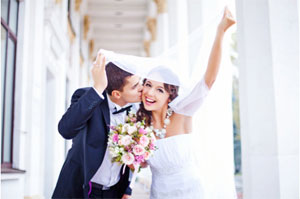 The same goes for metallic tones, which can be seen on bridesmaids' dresses as well, which are often completely metallic. Shiny all the way – this trend definitely resembles the style of the 20s, with sparkly and beaded dresses that scream elegance and glamour.
A Splash of Color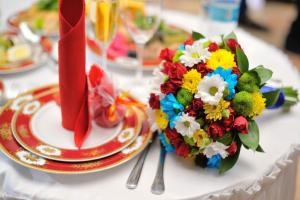 Gold and silver are not the only colors that dominate the latest weddings. As a matter of fact, all colors are now in. Neutral and pastel colors are not a must anymore, as bright and bold ones paved their way to the top. You can see shades of blue, green, yellow, pink, and even delightful combinations of two or three very bright colors.
Bridesmaids' dresses are also affected by this trend, so they either run with the wedding theme or introduce a new bold color that ideally fulfils the theme. What's important is that they don't match like they used to, so every bridesmaid can officially stand out.
50 Shades of Green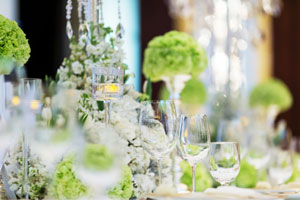 Greenery is coming back with a bang. Flowers certainly don't go out of style, but you can see a lot more greenery this year, with floral decorations and green leaves everywhere. Even trees are making their way to wedding receptions, which are more and more held outdoors, especially when it comes to destination weddings. You can see potted trees that create the most romantic forest effect, as well as flowers hanging from the ceiling, often incorporated with string lights for a real-life fairy tale effect.
Say Cheese!
When have you ever seen photo booths at a wedding? You can expect to see them more often, as couples are realizing how fun and exciting it can be to create such unforgettable memories. You can consider bringing at least one photo booth at your wedding and, if you do, make sure you bring some fun props, such as huge glasses, hats and those trendy glasses with moustaches, as they will surely entertain your guests and help them have the time of their lives.
Disconnect to Reconnect
Many couples are opting for a wedding free of smartphones, so they ask their guests to check their precious devices at the door, or at least to refrain from using them all day long. Not only does this trend help people really connect and have a wonderful time, without constantly checking social media, but it also makes it easier for professional photographers to capture candid moments without people taking selfies all around. Of course, you need to hire a professional who can provide you with the best wedding photo editing services, so that every photo of your big day can be beautifully preserved forever.
If you want your wedding to be truly unforgettable, you should follow these trends, but make sure you come up with some new creative ideas to add your own personal touch and make your big day truly special.