Festive Lights is one of the UK's leading event lighting specialists www.festive-lights.com
Stephen Alty, general manager at Festive Lights, says: "Elaborate entrances are a big trend for weddings this year and using festoon lights to illuminate the walkway to the marquee will create that magical atmosphere for guests as they arrive.  Draping strings of festoons above head height can also create a tunnel of light effect, which looks spectacular.  Special free-standing hooks can be used for this, or trees on the approach if it's in a woodland setting. 
"Warm white festoon bulbs have a retro look which contrasts beautifully with the rustic elements of a marquee. Creating vertical impact is important to emphasise the sense of space and high ceiling.  Chandeliers or suspended lighting provide a simple way to do this and the neutral background of the marquee shows these off to dramatic effect.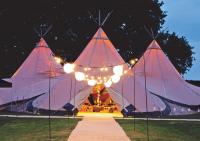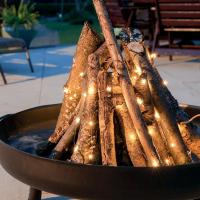 "Intertwining battery powered wire lights amongst floral arrangements is popular with wedding stylists as a glamorous, yet affordable way to add sparkle to table centrepieces.  Placing wire lights inside mason jars is also a great tip for creating a whimsical 'firefly' style focal point.  These can be placed on the tables, suspended from trees or used to illuminate pathways."
Tipi Image: www.papakata.co.uk
Event Date:
Tuesday, August 22, 2017 - 12:45