What started out as an idea while traveling through Southeast Asia has grown into a successful venture that has already taken this brand halfway across the globe. In just five years, OppoSuits have set up a range of over 100 designs and have customers in over 50 countries. The suits have been worn to an eclectic mix of events.
Of the 100 designs made, OppoSuits has become a statement piece of wedding wear, ranging from matching groomsmen suits, the father of the bride adorned in a two-piece and even the groom tying the knot in an off-the-wall suit from OppoSuits. OppoSuits has been the go to brand for those looking to buck the trend and find something different and memorable for their big day. And it's not just limited to men suits, boys/teen boys' suits are available, alongside a tailored women's suits range, so if a white wedding isn't your thing, OppoSuits might just be what you are looking for.
Guus Bakker, CEO & Director of OppoSuits says "We are so happy that people love to wear our suits for such special occasions. Our aim was to create eccentric suits that were stylish yet not too serious; to provide people with quality products that also made them smile. So, the fact our suits are making an already memorable experience, even more memorable is amazing. I hope to see many more of these occasions dressed in our patterns!"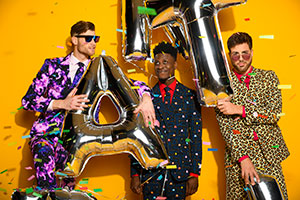 OppoSuits is for people who do not take themselves too seriously, but still want to wear quality, eye-catching designs. It has cultivated a following of people that have that same intrinsic sense of fun and want to feel good whilst having it. So, if you're scratching your head about what to wear for that summer wedding or stag do this year, here's all the inspiration you need.