The British flower industry is undergoing a revolution with UK-grown flowers becoming more and more popular for a unique and memorable wedding day.
Many brides are now steering away from choosing their flower arrangements from a catalogue and opting to pick them instead. The Wedding Team at Holiday Inn London – Wembley gives their top three reasons why you should get green fingers before your special day:
It's all grown not flown…
Why would you want to import flowers for your big day when you can get them fresh and local? Mirroring the trend for natural and local products, flower farmers are now growing beautiful blooms for British bouquets all over the country. Keep your special day chemical free and pick a fresh batch of whimsical arrangements, sure to get your guests talking.
It adds a special touch to your wedding day…
The wild and natural look is a hot topic for 2017/2018 with many brides getting more hands on with their wedding decorations. When you pick your own flowers from a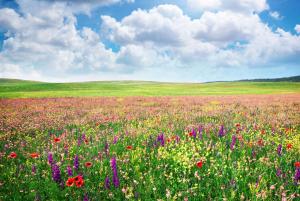 flower farm you'll be surprised at the naturally beautiful, lush and organic designs you will create. There is no skill needed, by using your own unique character and style you'll love how the colours slide into each other in the most magical way.
You can make a day of it…
The lead up to your wedding day is a special time and the perfect opportunity to create some memories with those who matter most. Get your hands dirty picking flowers with family and bridesmaids with a bucket in one hand and a glass of champagne in the other. Don't forget your camera for this once in a lifetime experience and take in your wild and wonderful surroundings, it's definitely a fun way to tick one job off your list.
Whether you dream of a lavish gala or intimate ceremony, make your dreams come true at Holiday Inn London - Wembley. This spacious hotel can cater for both intimate and larger wedding groups accommodating from 30 to 500 guests in their stunning Empire Suite with the added benefit of 336 relaxing and comfortable bedrooms.