Your stationery sets the mood and tone for your wedding… from its inception, it gives your guests a glimpse into what your day might look and feel like.  No pressure though!  
As a wedding tasker, I design a lot of bespoke stationery for my clients.  They give me a brief and send me things they like from Pinterest and I design them something unique and personal to suit their budget.  We go through various designs, sometimes more than 20, and various processes to ensure they have something they are thrilled with by the end.  Time and time again… the design my clients always end up going back to is the simplest one (and usually the first one!), but the key is personalisation.  Your day should be entirely reflective of you and your other half.  
My advice would be to give it some serious thought, but also don't take yourself too seriously.  Make your wedding stand out and get your guests excited about what's to come.  
Think about your story, your partner's story, your love story, what brought you together, and where you're getting married.  What fits in with any (or all) of those, and what do you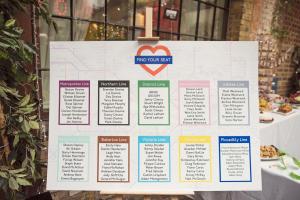 want to share with your friends and family through your stationery?  
Pinterest and Instagram are awesome for brainstorming the fun bit, so for the boring bit of figuring out what you might need to get started, I've created a handy check list below:  
PRE WEDDING
1. Save The Date 
2. Invitation, including:  
   • Directions/Map 
   • Gift List
   • RSVP Card/Dietary Requirements Card
  • Song Choice Card 
3. Sundries, including:  
   • Envelopes 
   • Postage Stamps
   • Envelope Seal Stickers/Stamp 
4. Thank You Cards/Notes for the Wedding Party 
5. Wedding Day Card/Note for Your Partner
WEDDING DAY
6. Order of Service/Order of the Day/Wedding Program
7. Welcome to Our Wedding Sign/Welcome Drinks Sign
8. Table Plan
9. Table Names 
10. Place Name Cards 
11. Favour Tags 
12. Menu Cards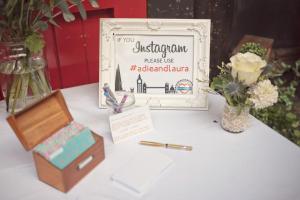 13. Wine/Drinks List Cards
14. Relationship Timeline Poster
15. Guest Book Sign
16. Card Table Sign
17. Photo Booth Sign 
18. Instagram/Wedding Hashtag Sign
RELAX
19. Thank You Cards 
Are you getting married soon and have you checked off all the above off your list?  Most are optional, but hopefully the above will help you get started!  
Congrats on your engagement, if you need any help don't hesitate to drop me a line, you can find me over at www.devinebride.co.uk and on laura@devinebride.co.uk. 
Laura x
By Laura Devine of Devine Bride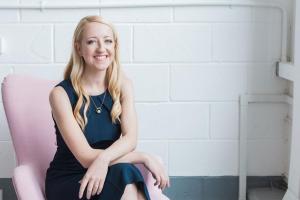 About the author, Laura Devine of Devine Bride:  
Laura is a wedding tasker and runs the multi award-winning wedding blog Devine Bride.  Laura offers pick and mix wedding planning, from stationery to styling, hire a bridesmaid to help on the day, and from wedding planning to wedding websites.  Her honest and practical blog covers hen parties to honeymoons and everything in between.  
Laura won Best Rising Star at the Wedding Blog Awards 2016, Wedding of the Year 2016 with Your London Wedding Magazine, and was highly commended in the Wedding and Events category at the UK Blog Awards 2017.  
Laura is Glasgow born and bred but now splits her time between Scotland and London, where she lives, works and plays.  She is a graduate of the Glasgow School of Art and the London College of Fashion.
In her words, "Weddings are important because they celebrate life and possibility, and ultimately, it's all about making people happy – and I love that."