- Dancewear Central has found Whitney Houston's version of 'I will always love you' is the nation's favourite first dance song
- Ed Sheeran's 'Thinking Out Loud' and the Dirty Dancing theme 'Time of My life' were also in the top three
The rise of the choreographed first dance
Weddings have gradually become more and more expensive, with the average wedding in Britain costing £27,000 in 2017, up from £21,000 in 2008.
A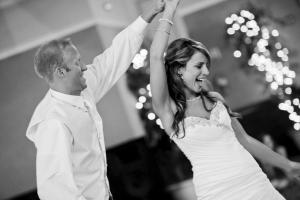 longside the increasing costs is the rise of social media and all the scrutiny it brings, guest videos and photos will be shared online for everyone to see, and with the help of live video streaming though Facebook, friends and relatives who can't make your big day can still take part from the comfort of their sofa.
With this added pressure, it's natural for the couple to want to make their day even more special, with every detail perfected and polished, from the cake to the venue and the dress, and more recently, the first dance. With the bar being raised to include Dirty Dancing lifts, Thriller moves and groomsmen mashups, the first dance has evolved from a private, intimate moment to a well-rehearsed display of style and originality.
In a survey of 1,000 people, Dancewear Central found the nation's favourite first dance song was Whitney Houston's 'I will always love you' with 22% of the vote, followed by:
- Thinking Out Loud - Ed Sheeran 17.05%
- Time of my Life - Dirty Dancing theme 15.08%
- At Last - Etta James 14.45%
- Angels - Robbie Williams 11.49%
- I'm Yours - Jason Mraz 9.75%
- A Thousand Years - Christina Perri 9.52%
Practice makes perfect
The craze for a choreographed first dance has even opened up a whole new industry to dance teaching, with companies like Wedding Day Dance UK specialising in lessons for couples that need to sharpen up their steps:
"We teach people how to dance for their wedding day, making sure they have an amazing first dance. We don't just teach dance steps, we ensure our clients really enjoy their first dance every step of the way. From wedding dance lessons through to dancing on their big day, we help them make memories they'll never forget."
And the trend for being unique doesn't look like it's going away, with couples taking it to more extravagant levels, like the couple who included rollerskates and bicycles for their first dance, or the Star Wars tribute that included stormtroopers and a Darth Vader groom.
Best foot forward
Faye Nash, Marketing Manager at Dancewear Central, leading supplier of professional dance clothing, comments: "For many couples, the first dance at a wedding can be a really nerve-wracking experience, injecting personality or humour through a choreographed dance is one way to ensure they'll make a lasting impression and rehearsing their steps will help ease their jitters. For some, the practice and training it takes to learn their first dance could even ignite a passion for dancing they didn't know they had!"
The right shoes:
As Faye explains: 'It's important to be comfortable when you're dancing and to practice in your dance shoes before the big day. I'd recommend a medium heel for height with the gown, and a strap for comfort and support."
Want to make your first dance an extra-special spectacle that everyone will remember? You'll need the right shoes if you're going to pull it off! Dancewear Central has a wide variety of dance shoes for men and women, so whether you're disco dancing or kicking up a can-can, there's something to suit everyone.
For help and expert advice on shoes for your first dance, or any other dancewear enquiries, please visit our website dancewearcentral.co.uk or call our customer help team on 0344 561 6664.