You've chosen the wedding dress of your dreams. You've picked a hairstyle and you've even got your jewellery and accessories in place. Now all you've got left to decide is whether to stay in your beautiful wedding gown for the whole duration of the wedding or to slip into a different outfit for the reception.
Whilst many brides prefer to stay in their stunning bridal dresses for the whole day and night, others opt to change into an entirely new outfit for the evening's celebrations. If you're indecisive as to whether to opt for two different glamorous outfits, take a look at some of the pros and cons of changing into a reception dress on your wedding day.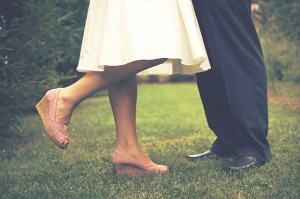 The advantages of changing into a new dress
You'll keep your wedding dress clean
Wedding receptions typically comprise of three things – plenty of dancing, plenty of food and plenty of wine, none of which are especially conducive with maintaining a spotless wedding dress!
Changing out of your gown and into a new outfit can be a sensible move if you want to take your wedding dress off in the same condition it was when you put it on, particularly if you're wearing a white wedding dress!
You'll have more freedom on the dancefloor
By the same token, without being wary that your hem is dragging on the floor and if you lift your arms a little too high, you're beautiful sequenced bodice might come undone, changing into something a little less 'precious' or restricting can mean you'll be able to 'let rip' on the dancefloor with greater freedom.
Without the fear of damaging their precious wedding dress, brides may feel they have more freedom and can relax a little more at the reception.
Adds some diversity to the photos
If you're worried your wedding photos might be too monotonous, the bride wearing a different outfit can throw some variation into the wedding portfolio.
The disadvantages of wearing two dresses on your wedding day
Getting changed will be a rush
If there is one common remark brides and grooms regularly make about their wedding day, it's that it went so fast!
From getting ready on the morning of the big day to saying goodnight to the guests, brides have little 'relaxing' time on their wedding. You might not think it now but finding the time to change out of your bridal gown and into a reception dress might be challenging.
Accessories might not match
If you're getting changed on your wedding day you'll need to think about whether or not the jewellery, accessories and even hairstyle you wear to the ceremony will match your reception dress. If not, that means a whole new set of accessories!
You'll only wear your wedding dress once
A slinky little reception dress might radiate style and sexiness but then again, it's not a wedding dress. If you've spent a lot of time imagining what kind of wedding dress you'd like to wear and what you'll look like on your wedding day, taking it off after the ceremony doesn't make much sense.
You're only ever going to wear this dress once in your lifetime, why not make the most of it?
This blog post was written by Venus Bridal, specialists in delightfully diverse bridal collections to cater for every wedding, style, shape and taste.