While it might not be possible to put eternal love in a bottle, you can find a wedding gift which invests in the future of the happy couple. 
Consider the following and see if you can relate. If you've had a poor night's sleep – or even worse, a string of bad nights - you are:
·       -  More likely to argue    … severely
·        - Less willing to resolve conflicts
·      -   Likely to experience a drop in libido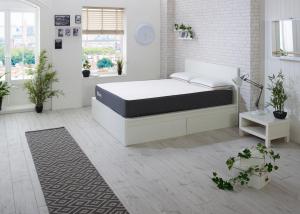 Sound familiar? In fact feuding as a result of poor sleep is so common official studies have been held to scientifically confirm the link. So a present which helps you sleep well is pretty darn close to that bottle of eternal happiness. 
Introducing the Guru Mattress. Not exactly a 'traditional' wedding gift – but it really should be. The Guru Mattress is sublimely comfortable, supportive and will ensure the newlyweds enjoy restful sleep together for years to come. The perfect gift.
Our Guru Mattress is made onsite at our Yorkshire factory using 3 layers of soothing foam, with breathable cooling technology to ensure you don't get too warm. This design is perfect for front, back and side sleepers, and supports couples of all shapes and sizes too. 
Prices start from £499.99 for a Double, and every Guru Mattress comes with free delivery in a compact box, a 100 Night Trial and a 10 Year Warranty. So if the newlyweds aren't 100% sure after 100 nights, we'll just pick it up and refund your money.
Enter code VOWSANDVENUES at checkout and we'll even sort out a complimentary bottle of champers. Because if a lifetime of peaceful sleep together isn't worth toasting, then we don't know what is. 
"Never go to sleep angry. Because you never know if you or the person you're mad at will wake up the next morning. Always forgive someone. Because you never know if you'll talk to them again. Things happen. Get over it. Always forgive. You may not forget. But it's better than knowing you'll never get to say sorry or I love you again"
-        An unknown but wise person