Almost half of British women admit they were "disappointed" with the way their partner popped the question, according to a new study.
Researchers studied women who have been proposed to, and discovered as many as 40 percent were unhappy with how their partner asked for their hand in marriage – with a further 12 percent saying they were "bitterly disappointed". 
And almost a quarter (23 percent) were left red faced from an over the top gesture, including flash mobs, lavish gifts and public displays of affection.
Two thirds of women felt a proposal should be all about the 'little details' rather than grand gestures – with 92 percent saying the special event should NEVER take place in public.
The poll of 1,000 women revealed as many as half (49 percent) were not satisfied with the location of their proposal, saying it wasn't very romantic.
One in twenty (5 percent) complained that their other half made his declaration of love in the local pub, while one in ten said they will never forgive their partner for proposing in front of the television.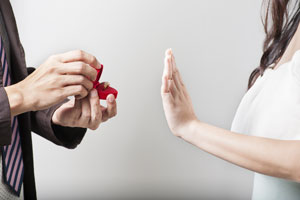 A third of females (31 percent) felt let down because their partner didn't bother making the proposal personal to them, while 22 percent felt the occasion lacked real emotion.
According to the poll by jewellers, Beaverbrooks, a quarter (24 percent) of men have asked the most important question of their lives without EVEN having bought a ring.
An extreme one in twenty women (5 percent) said they had actually dumped a partner after a terrible proposal.
Lorna Haddon, diamond ring and jewellery buyer at Beaverbrooks said: "A proposal is such an important milestone for couples so it's surprising to see just how many women felt their partner's efforts didn't quite live up to expectation.   
"It seems that over the top gestures are becoming a thing of the past for modern women – it's actually the little things that really make a proposal special. 
"Whether it's cooking their favourite meal or planning a romantic visit to the place you first met – it's about knowing exactly what your partner would want and the personal little details that will make it memorable for all the right reasons." 
A traditional 31 percent of women polled wished their other half had got down on one knee to pop the question, while one in ten expected them to ask for their father's permission.
Choosing the perfect location, buying flowers and getting the ring size right the first time also emerged among a list of tips for the perfect proposal – as did making sure you are clean shaven.
But despite the findings, many of the nation's men are left in dark as two thirds of women have never let on that they were disappointed with the way their husband proposed.
But a more direct 24 percent told their partner immediately that they thought his proposal was below par.
Fortunately, three quarters of brides loved their engagement ring – but 10 percent said they secretly cannot stand it.
A more diplomatic 12 percent said they initially turned their nose up at their husband's choice of a ring but have grown to love it over the years.
The poll revealed the average female thought a man should fork out at LEAST £1,028 on his bride-to-be's ring.
Off the back of the findings the national jewellers is giving anyone planning to pop the question this autumn the chance to bag themselves an official 'engage-mentor', who will help them plan their proposal to the finest detail –  as well as receiving £3,000 to create the perfect moment. 
Any partners who would benefit from the service should visit www.beaverbrooks.co.uk/little-things-competition before Sunday 10 September, explaining the little things that would make their proposal perfect.
Top Tips for Men Considering a Proposal
Don't involve others - it should just be the two of you               
Get down on one knee            
Make sure it's the right ring       
Get the ring size right - first time         
Buy your partner her favourite flowers     
Cook a nice meal for her at home                
Play her favourite song in the background       
Propose somewhere special e.g. her favourite beach or restaurant
Have a glass of champagne at the ready                 
Light candles                  
Make sure you're clean shaven                  
Wear her favourite aftershave   
Order her favourite wine      
Involve your dog/cat - tie the ring to its collar           
Try and recreate a scene from her favourite book/movie
Event Date:
Friday, August 18, 2017 - 10:30