The Great Hall of Oakham Castle, built in 1180, is a beautiful and dramatic setting for your unique wedding.
The Hall can hold up to 120 people and is conveniently situated in Oakham town centre, yet sits in its own peaceful grounds. There's some free parking on site, and easy walking access to other car parks, and a selection of excellent hotels, pubs and cafés perfect for either your reception or accommodation.
Weddings can be booked on any day of the week. We still have a few dates available for 2018, so do get in touch. Our recent £2million Heritage Lottery Fund restoration has seen the facilities upgraded, meaning that despite being over 800 years old, we are a warm snug venue for autumn or winter weddings, as well as being perfect for summer days. We have full disability access and facilities now, too.
We can accommodate evening receptions, up to 100, depending on what you have going on. We have a very small kitchen area, so caterer's need to be able to bring all they need themselves. Buffet style works well, with the food laid out in No. 1 Court, to then take through to the Great Hall to eat. Informal style options also work well here, such as a Hog Roast, ice cream vans and so on, outside. Please pop in to chat to us about your ideas.  If you're looking for an unusual wedding favour, we sell locally produced, handmade chocolate horseshoes, to reflect the collection of giant, gilded ones hanging on the castle's walls.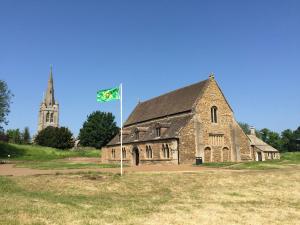 Marquees in the grounds are another option. They need to be weighted with water ballast, rather than staked, as the site is designated a Scheduled Ancient Monument due to the archaeology under the turf. (This can add extra cost to your marquee hire. Have a chat to your marquee company for details).
Whichever option you choose, the Castle is sure to impress your guests and give you an enviable backdrop for your photographs.
We also can do historical activities for hen and stag parties such as period archery, traditional crafts, re-enacting the Battle of Hastings and we've just placed an order for a ½ size trebuchet for storming the castle walls.
We're always happy to answer any questions, so please visit www.oakhamcastle.org/weddings  or email castle@rutland.gov.uk or just come and see us!
Event Date:
Monday, August 7, 2017 - 09:45