Described by the London Evening Standard as the 'heart and soul of Leeds' art scene', The Tetley on Leeds' South Bank is a renowned venue for weddings and celebrations.
Founded by Joshua Tetley in 1822, the Tetley name represents one of Leeds' oldest brewing dynasties and has been synonymous with the city for over 200 years. It retains many of its original art deco features including the wrought iron scissor lift and the Board Room with its original furniture and paintings of former Chairmen.
The South Bank Room, is a multi-purpose space making it the perfect place to host your special day. The room is a blank canvas which allows you to put your own creative stamp on your wedding. The charming venue is located two minutes' walk from the River Aire at Clarence Dock, making it the perfect spot for summer nuptials.
Sophie & James' wedding credit Paul Joseph photography
Planning your big day can be very stressful, which is why The Tetley has a dedicated events team to take off all of the unnecessary weddings pressure. From your first point of contact to saying goodbye on the night, Charlotte and Maisie will be with you every step of the way.
Whether you're looking for a small and intimate reception to a large sit down dinner, they have everything you need to help create your special wedding day.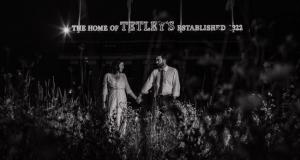 Sophie & James' wedding credit Paul Joseph photography
Catering options can be scaled up or down depending on the size of the affair and cater to every taste, from 3 course dinners with tea /coffee and petit fours to homemade pies and pizzas. Charlotte can discuss all your ideas to help make it more personal and bring it in on budget.
To make things even easier, The Tetley don't have generic packages as they understand everyone is different. Instead they work closely with you to understand your needs and desires to create a bespoke package tailored to your needs.
To enquire about your big day or fancy popping in for a brew and a chat contact specialevents@thetetley.org to view more images pliease click on the link http://sophieplusjames.pauljosephphotography.co.uk/