With wedding season in full swing, guests across the country will be asking themselves the same questions: how much should I spend on a present and is it okay to give cash?! 
Research* from personal loan provider, Hitachi Personal Finance, has got to the bottom of just how much the nation spends on (and expects to receive as)  a wedding present, and if cash/vouchers or a physical gift is better. 
Overall, the study revealed that the average spend on a wedding gift per person is £44 (either as a physical gift or cash/vouchers), versus the average amount expected by couples of £30. It is the over 65s that are the most generous, with 9% saying they would give a gift worth over £100, compared to the 18 – 24s where the majority (32%) said they would give a gift worth £20 or less. 
It's good news for wedding guests who are looking to save on costs, as almost a quarter (24%) of would-be bride and grooms saying that they don't expect a gift or cash at all. 
So, is it okay to give cash to the happy couple, rather than choosing a personal present? 
Two thirds (66%) of the nation would prefer to give a physical gift and for the most part this is so they can get the happy couple something personal (45%). However, one in five (21%) said they would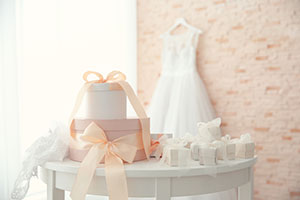 prefer to buy a gift so they can get something nice and get away with spending less. On the flip side, one in ten Millennials (25 – 34) admitted to giving cash or vouchers so they could show how generous they'd been. 
Regionally, the Northern Irish showed to be the most generous where one in ten (10%) would give a gift over £100 to the bride and groom. Conversely, those in the South West were revealed as the most cost-conscious, where a fifth (20%) admitted to giving a gift worth £20 or less. 
Alison Tinlin, a wedding blogger, said: "It's not about how much you spend, it's about showing the couple you care. Something that is both personal and unique to them can become something to be treasured and that trumps an expensive gift with not much thought. Also in these modern times where many couples where many couples already have a house together, a monetary gift or donation to a honeymoon registry can be much more useful." 
For more tips and advice on money matters, or information on taking out a loan to help fund your big day, visit:  https://www.hitachipersonalfinance.co.uk/