We all know weddings can be expensive.
After saving every spare penny for months or years on end you finally breathe a sigh of relief after the big day, safe in the knowledge that you won't have to fork out any more cash.
However, this is not always the case. From paying off any lingering accounts, to sending out thank you cards, the little costs continue to mount up.
One of the biggest costs after the main event is your wedding album. After paying a pretty penny on the photographer, and perhaps even an engagement shoot, you still have the daunting task - and expense - of creating your album.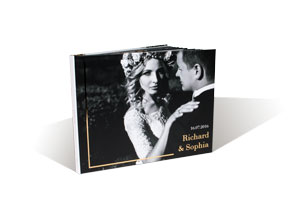 With photographers quoting hundreds of pounds to put together an album, newly weds are often left wondering if there is another alternative. 
If you have digital copies of your wedding photographs it is easy to create your own album, giving you the power to create your perfect keepsake at a fraction of the cost.
CEWE Photoworld's photo book offers newlyweds a stress-free option. Its easy-to-use software allows you to choose from a range of shapes, sizes and paper type to create your perfect album.
A spokesperson from CEWE Photoworld said: "Wedding photographs will remain one of your most  precious and prized possessions throughout your life, so creating the design of the ever lasting memories should be a personal experience.
"CEWE Photoworld allows you to design your own professional standard wedding album using their award winning software. Make your wedding album match your specific style and tastes using images from your wedding photographer, family and friends."
Each page can be tailored to suit your images. Simply choose how many photos you'd like to appear on each page, and the layout, and upload your images into their designated spaces.
Alternatively, CEWE Photoworld's intelligent software can analyse your images and suggest a layout.
In addition to stylishly displaying your photos, the system also allows you to add a certain sense of sparkle with its latest highlights feature, which adds a shiny element to any text added.
Customers can choose between gloss, silver, and gold highlights, which look particularly effective against a matte, shine-free background.
With clever QR technology you can also bring your image to life with footage from your big day.
The photo books are the perfect way to create a truly unique memento of your wedding, without needing to break the bank.
Whether it is a post-wedding gift for your other half, a thank you present for parents, or a coffee table showpiece, CEWE Photoworld's photo book has got to be the perfect end to your wonderful wedding.
For more information visit https://cewe-photoworld.com
Event Date:
Thursday, July 27, 2017 - 13:15