Encapsulating the eclectic and romantic essence of Mumbai and capturing the grandeur of British colonial India, Lokhandwala is the epitome of unhindered luxury that narrates the love story of Lady Charlotte with utmost sincerity through its royal ambience, scrumptious food and signature concoctions. Located in the heart of Fitzroviaand a ten-minute stroll from the hustle and bustle of Oxford Street, Lokhandwala is adorned with Victorian and resplendent interiors with huge mirrors everywhere, elaborate decorative mouldings and chandeliers that make it the perfect venue for the celebration of your fairytale.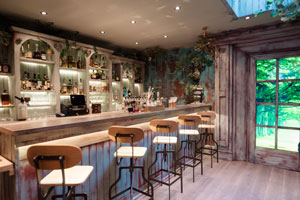 The Dining Room serves authentic Indian food in traditional Tapas style while The Hot House is a realm where an immaculate blend of exclusive gins, wines and classic cocktails are prepared to please your senses. Together they can host up to 50 guests and is a distinguished destination for your dream wedding. 
Vijay's Lounge reflects opulence and sheer magnificence, with a luxurious four-poster bed, chaise lounge and gun cabinets, all concealing extraordinary cocktails and spirits. The speakeasy lounge that can accommodate 20 people is a personal and intimate space where magic unfolds all around with exclusive access to the roof terrace gardens. Beautiful and absolutely stunning, there is nothing like Vijay's Lounge in all of London.
Weddings call for lavish celebrations and there is nothing better than the spellbinding air of Lokhandwala. For your upcoming wedding celebrations, contact our events team at events@lokhandwala.co.uk and to know more about Lokhandwala, visit our website at www.lokhandwala.co.uk