The Carriage Hall in Nottingham has launched a unique new bridal suite for its brides-to-be in the form of a luxury double shepherd hut. Created by Blackdown Shepherd Huts from Somerset, the double hut, named The Great Oak, this quirky bridal suite and two additional huts are fitted out with all the necessities to create a luxurious and chic setting for brides and their guests.
The Blackdown Shepherd Huts team were delighted to be asked by Jon Perkins from The Carriage Hall to design and create the double hut. Will Vickery, director of Blackdown Shepherd Huts, says: 'We're always more than happy to get creative with our carpentry, and we do relish a challenge. So, when The Carriage Hall asked for a double hut as a wedding bridal suite, with one area as dressing room and suite, and the other as a luxury bathroom, the workshop team set to it.'
The result was the stunning The Great Oak shepherd's hut, along with two sister huts, The Willow and The Birch. Jon and David Perkins, a second generation family business established in 1982, are located at the Old Victorian Plumtree Railway station, and are delighted with the arrival of this unique hut.
Jon says: 'The shepherd huts add a little "boho chic" to Plumtree Station! They are nestled amongst the tree line overlooking the South Nottingham Countryside. We wanted something totally unique for Plumtree Station and the local area, and we were blown away when we saw one being created at Blackdown.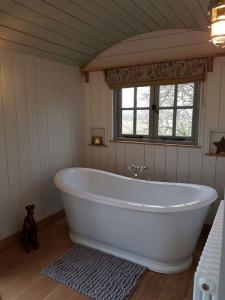 'The Great Oak Bridal Suite has a roll top bath, which was a must have luxury addition for the bride to be to relax in. We have been eager to add some accommodation at The Carriage Hall for a long time, and after considerable hunting and researching, we finally stumbled across Blackdown Shepherd Huts. These really are the perfect combination of quality, quirkiness, and comfort.'
The Blackdown shepherd huts at The Carriage Hall are in the style of modern vintage, with additional creature comforts including espresso machines, individual wifi, and wireless speakers. The bridal suite contains a generous double bed, a roll top bath, a dressing area, and an outside terrace with bistro table and chairs.
The huts have already been showcased at a wedding fair and Jon says the response to them has been overwhelming. 'We're booking them out for weddings already. The huts are so unusual, as well as cosy, comfortable and relaxed. Waking up to views over the fields, sipping coffee on the little terrace feeling you're away from the daily grind – what can better than that on your wedding day?'
The Carriage Hall shepherd huts can be booked via: www.thecarriagehall.co.uk Blackdown Shepherd Huts creates huts for the hotels, gardens, caterers, and offices. www.blackdownshepherdhuts.co.uk