EROSANTORINI sits perched on the volcanic cliffs of Santorini overlooking the tranquil Aegean Sea. The two-acre exclusive-use retreat is a calm oasis rarely found on the island that can host enchanting weddings for up to 800 cocktail guests or 350 seated guests, with room for dancing, live music and more among the expansive grounds.  Open year-round, it eloquently combines the luxuries of a hotel with a unique home from home feel, hosting bespoke weddings that range from intimate soirees to exquisite banquets.
EROSANTORINI's setting is truly magical; the lush landscape provides jaw dropping views and is the perfect spot to exchange vows. Say "I do" in the divine open-air chapel set on the hill, entwined by vines, surrounded by those you cherish most. While later in the evening, you and your guests can take in one of the world's best sunsets alongside the dramatic three-tiered swimming pool – the largest swimming pool on the island - whilst gazing upon the Aegean.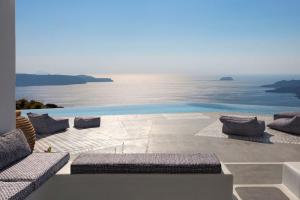 The Greek philosophy of 'philotimo' is in abundance here. Defying translation, the word captures boundless, unpretentious hospitality, warmth, welcome and generosity. The location and its hosts ooze this philosophy, leaving visitors instantly charmed. Alongside this Greek hospitality, the culinary excellence on offer is unique with fresh Mediterranean delicacies offering a plethora of gastronomical delights. Menus showcase the famed produce of Santorini including the cherry tomatoes, white aubergine, fresh seafoods, as well as cheeses and wines from all over the island, and freshly-baked bread from the traditional fournosovens, the homemade specialities at EROSANTORINI are the perfect pairing to the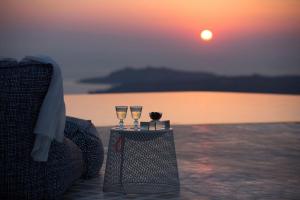 idyllic back drop.
Those in search of bespoke activities for their guests or romantic excursions with their other half during their stay on the island are in for an adventure. Enjoy the comforts of the retreat and indulge in spa treatments, yoga sessions or relax in open air cinema under the stars or by the cliff-edge fire pit on site. Or venture further afield; Go fishing with the chef to catch the fish for the day or enjoy a lovingly prepared picnic on the beach or amongst the vineyards whilst you sample the famous local wine, assyrtiko. Hike the scenic cliffs, reach secret beaches by private boat, explore local villages by donkey or visit the ancient archaeological sites, the options are endless.
Guided cliff side hikes and donkey treks through the villages and visits to archaeological sites are available to those willing to explore and leave the luxuries of EROSANTORINI.
For those staying overnight, the retreat can accommodate for up to ten adults and four children while families are comfortably accommodated in five individual suits on a request basis.
EROSANTORINI is a stunning Aegean hideaway and the perfect venue to celebrate you wedding day with the guarantee of ultimate privacy on the bustling island of Santorini. 
For further information or to enquire please see www.erosantorini.com
Images: EROSANTORINI